Whether you are a hardcore or casual after-hours gamer, it is crucial that you have the best hardware to get the most out of your game. Choosing the right gaming monitor can be tricky with the variety of games available out there from the first-person shooter (FPS) to racing games. Monitors with the help of graphics card ensure that there is no blurred image, flickering or tearing issues.

For choosing a gaming monitor, there are many parameters to look for like size, aspect ratio, resolution, panel type, viewing angle and more technical details like refresh rate, response time. Moreover, you have to keep in mind your graphics card type (NVIDIA, AMD) and choose the monitors according to the synchronization technology (G-Sync, FreeSync) it supports.
For this, we have made the list of top ten gaming monitors currently available in the market.
List of Best Gaming Monitors
1. BENQ EX3501R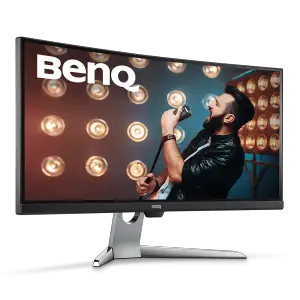 The monitor comes with a whopping 35-inch display and combines HDR technology and 1800R curvature, the ideally immersive curve ratio for its size. It radially curved 21:9 display features a resolution of 3440 x 1440 pixels.

 It incorporates ultra-slim bezel with edge-to-edge panels and has height, tilt-adjustments along with Brightness Intelligence Plus Technology to provide supreme Viewing comfort. As for synchronizing technology, it comes with AMD FreeSync technology to reduce screen tearing and broken frames.

The BenQ leverages state-of-the-art USB-C architecture which enables SuperSpeed USB data transfer and 2K video delivery over a single cable. This is no doubt the best monitor on our list, and once you start using it you will see straight away why it deserves to be at the top.
View our Full Review of BENQ EX3501R

2. Alienware AW3418DW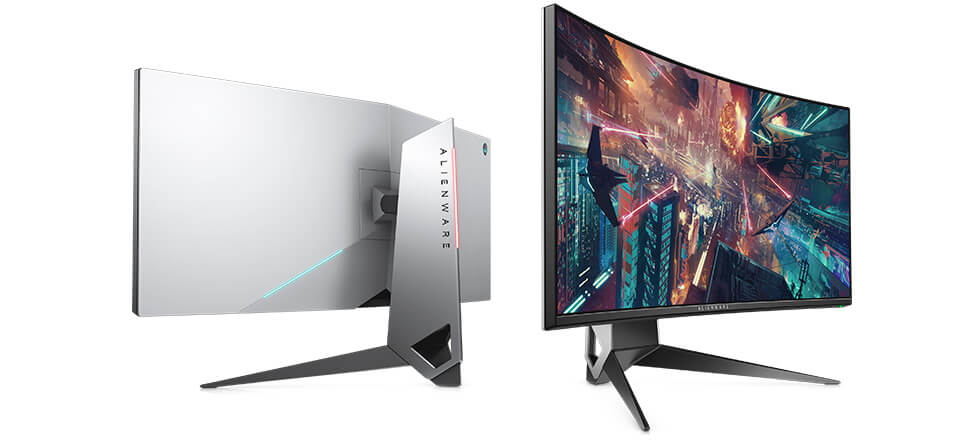 Dell's Alienware series of gaming accessories is well known for its powerful hardware and sleek designs. Before giving any details about the monitor, let's be clear that Alienware AW3418DW has the fastest refresh rate on an ultrawide display. It has 21:9 resolution, lightning-fast 4ms response time and a stunning 120Hz refresh rate, bringing out the best of both worlds.

The monitor sports a premium, polished silver finish and ultramodern design with Triad lightning that's hard to keep your eyes off. It comes with a 3 side bezel supported by a 34 inch 1900R curved infinity display. The display has a WQHD resolution of 3440 x 1440 pixels that delivers sharp, crystal-clear graphics with 3.68 million pixels-which is 1.77 more times than a Full HD display.

Additionally, it comes with an on-screen display (OSD) that gives you the flexibility to choose from 6 game modes offered: FPS, RTS, and RPS along with three customizable game modes that you can personalize. Like any other premium monitor, the adjustments of tilt swivel and height-adjustment is taken care of by the new swivel-hinge combo. There is venting support which helps in dissipating heat and maximizing performance. Last but not the least, it comes with AlienFX, a fully customizable RGB lighting system with four customized lighting zones that let you personalize your keyboard monitor and mouse with different colors and effects to reflect your style.
View our Full Review of Alienware AW3418DW
3. AOC Agon AG271QG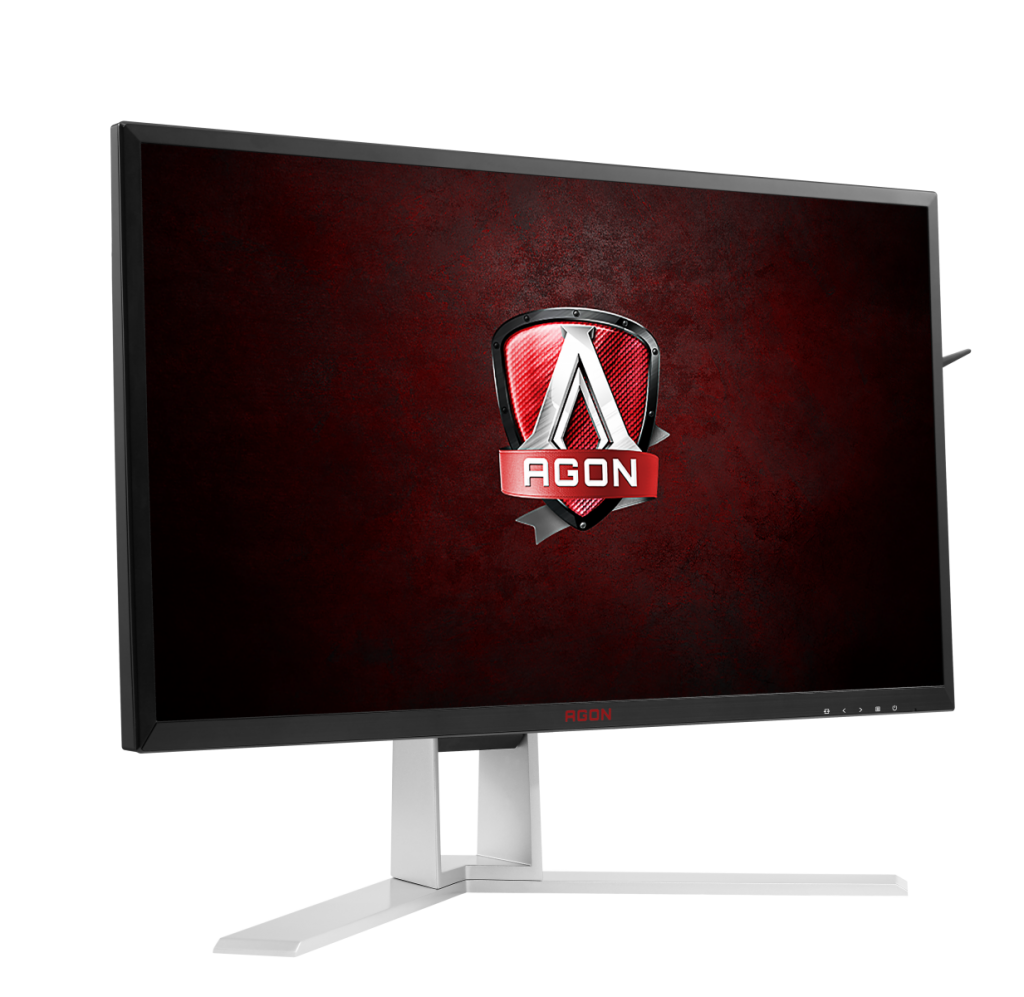 The monitor comes with a 27-inch display with a resolution of Quad HD (2560 x 1440 pixels), which is four times the resolution of HD. For competitive and intensive gaming demands, this AOC monitor features a 165Hz refresh rate.

As for synchronizing technology, it comes with NVIDIA G-SYNC technology to reduce screen tearing, stuttering, and broken frames. For connections, the monitor has Display Port 1.2 and HDMI 1.4 connections with an additional four USB (1 x fast-charging port) while there I an audio-line and two 2-watt speakers for audio.

Agon AG271QG comes with Shadow Control technology, which enables gamers to have the best visibility especially for the dark areas on the screen. They can dial-in shadow levels in the On-Screen Display menu to increase contrast for better dark areas without affecting the rest of the screen. By default, it offers 3 levels to adjust dark portions.
View our Full Review of AOC Agon AG271QG
4. ASUS ROG Strix XG32VQ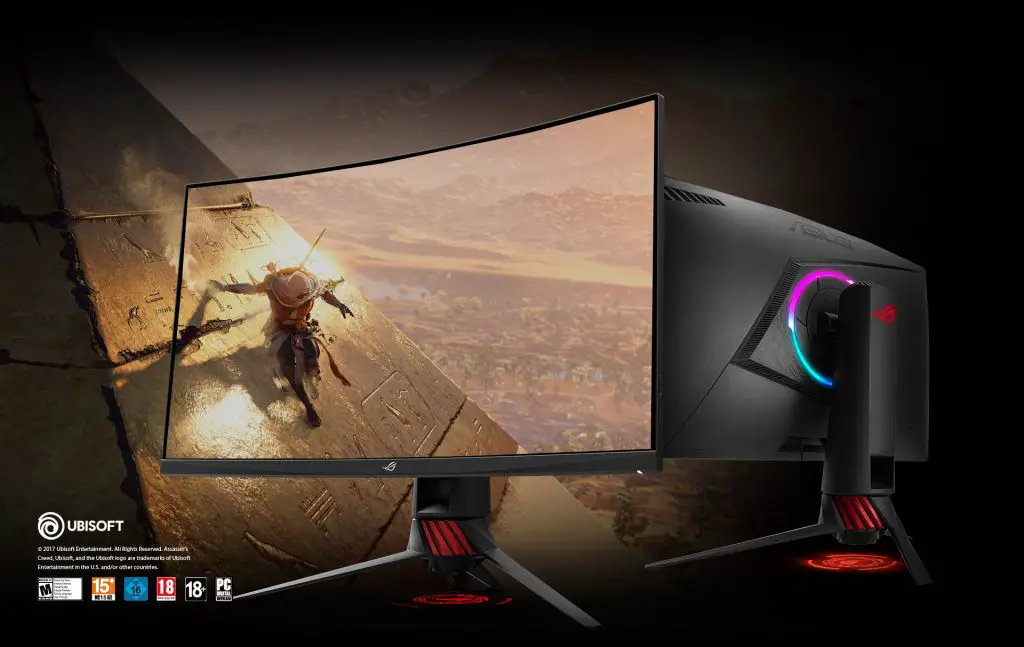 This monitor from ASUS comes with a 31.5 inch 1800R curved display with a resolution of WQHD (2560 x 1440 pixels). It comes with support for Adaptive-Sync/FreeSync for the reduction of screen tearing, stuttering, and broken frames. The monitor is adjustable with swivel, tilt and height adjustability along with VESA mount to set your ideal viewing position.

It features an ASUS Eye Care technology that minimizes eye fatigue and ailments with flicker-free backlighting and blue light filters. There are exclusive GamePlus and GameVisual with MOBA mode for enhancements of color enabling more focused gameplay.

The ASUS ROG Strix XG32VQ comes with enhanced customization featuring ASUS Aura Sync RGB lighting on the back and LED lighting projection on the base. However, it misses out built-in speakers and you need to connect them externally.
View our Full Review of ASUS ROG Strix XG32VQ
5. ViewSonic XG2700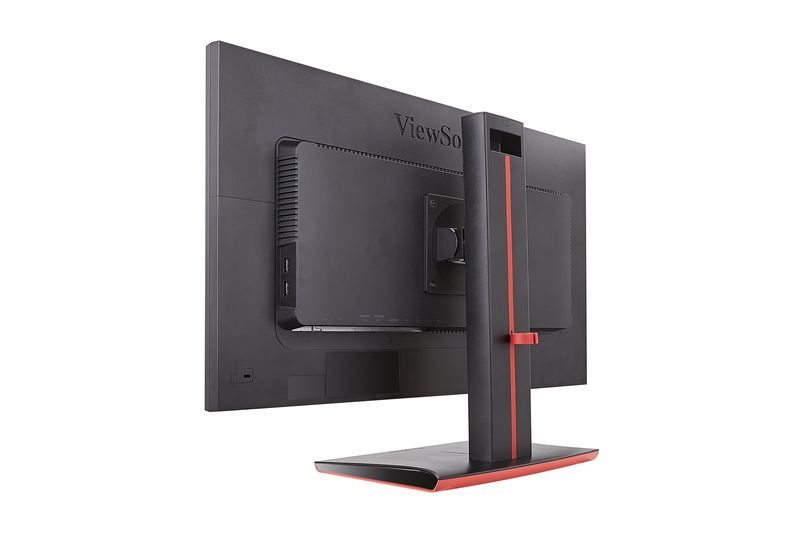 This monitor is a 27 inch 4K Ultra LED gaming monitor that has a resolution of (3840 x 2160 pixels) and SuperClear In-Plane Switching (IPS) panel technology that delivers sharp and detailed visuals. It comes with support for Adaptive-Sync/FreeSync for the reduction of screen tearing, stuttering, and broken frames.

Gamers will find this monitor incredibly useful with its wide array of customizable-pro style color settings for more color accuracy. It comes with VESA Adaptive-Sync technology to deliver tear-free, picture-perfect gaming every time. Fast response time of 5ms and low input lag ensures smooth screen performance free from blurring or ghosting. The monitor comes with game Mode featuring optimizing visuals for FPS, RTS, and MOBA, along with a black stabilization function that helps to detect enemies lurking in the dark while maintaining rich colors and contrast.

For connectivity, there is Display Port and HDMI 2.0 to support 4K UHD resolution at 60Hz. The only lacking of this monitor is its plain design and lack of speakers.
6. BENQ EW3270U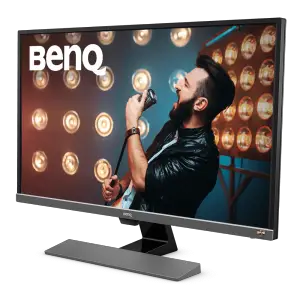 This monitor from BenQ comes with a 31.5 inch LED 4K display with a resolution of UHD (3840 x 2160 resolution), 3000;1 native contrast (three times than normal panels), 95% DCI-P3 wide color gamut and 300-nit enhanced brightness to deliver immersive multimedia enjoyment and safeguarded by industry-leading eye care technology. It comes with support for Adaptive-Sync/FreeSync for the reduction of screen tearing, stuttering, and broken frames.

There is a High Dynamic Range (HDR) and Cinema HDR Mode that increases the overall dynamic range between true black and bright resembling natural colors.  It also features Brightness Intelligence Plus Technology (B.I. + Tech) which automatically detects ambient brightness and color temperature to adjust display settings. The display is of 10-bit as a result of which it will give more vivid and accurate than the traditional 8-bit displays. However, the adjustments are limited to only tilt and have a bit narrow viewing angles.
7. AOC Agon AG271QX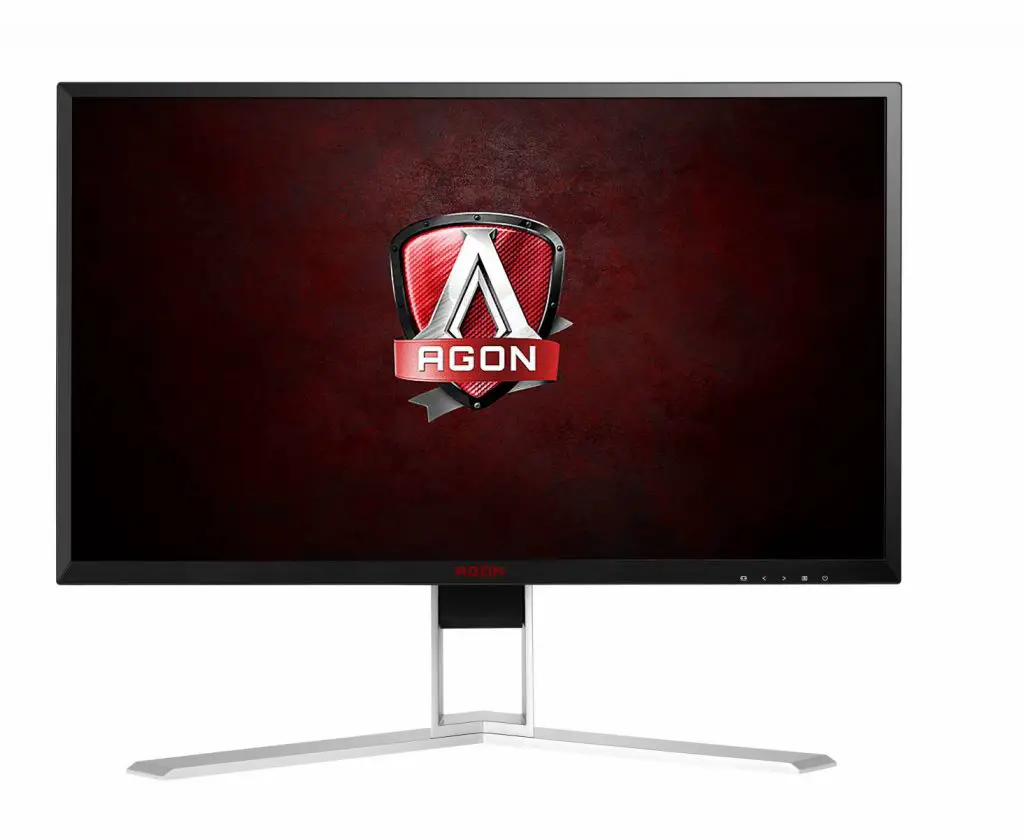 This Agon monitor has a 27 inch widescreen with a resolution of QHD (2560 x 1440 pixels) and a refresh rate of 144Hz, 2.4X faster than standard displays. As for synchronizing technology, it comes with AMD FreeSync technology to reducing screen tearing and broken frames.

It comes with QuickSwitch Controller offering up to three customized game modes. Gamers can set their preferred brightness, contrast and essential gaming features and access them wherever they want without the need to pause the game for changing settings.

For connections, there is VGA, Dual-Link DVI, HDMI 2,0, HDMI-MHL, Display Port along with 4 USB 3.0 fast charging ports. For audio, it comes with two 3-watt speakers and an audio in-line/headphone out. With MHL-enabled HDMI connections, you can also connect your smart device to your monitor and maximize your experience via Display Port or DVI Dual-Link cable.
8. Dell P3418HW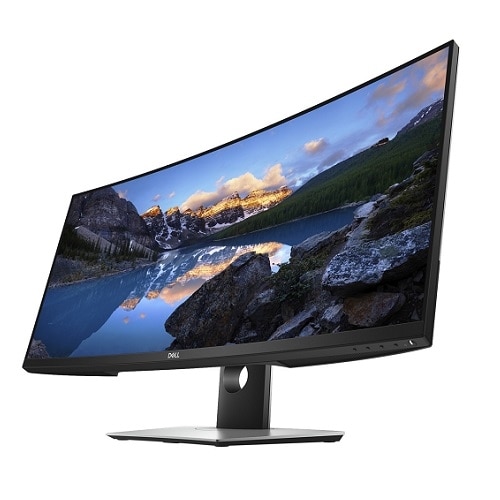 This monitor from Dell has a 34-inch wide FHD In-Plane Switching (IPS) display with a resolution of (2560 x 1080 pixels) and an aspect ratio of 21:9 that gives immersive viewing experience of what's in front of you. It is mounted by Flat Panel Mount interface VESA that can be adjusted with swivel, tilt, and height as required. There is an anti-glare coating on the display to reduce reflections.

Dell P3418HW has a gentle 3800R curve which is less steep than other gaming monitors like the Alienware AW3418DW mentioned above. For connectivity, there are two HDMI inputs, a Display Port connector, a mini Display Port connection, an audio output, one USB 3.0 upstream connection and two USB 3.0 downstream ports along with an additional pair of USB 3.0 ports on the left side of the monitor. It is also equipped with a pair of 9-watt speakers.
9. Acer Predator XB271HU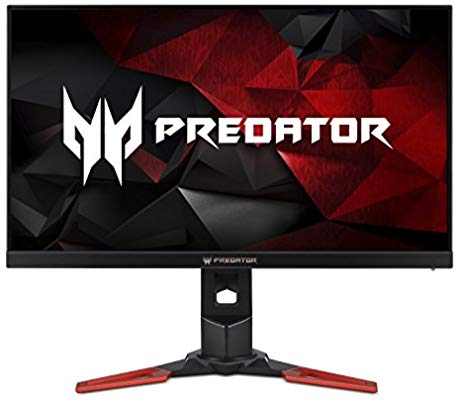 Unless you have been living under a rock, you must have heard about the Acer's Predator series of gaming accessories and Acer Predator XB271HU is the perfect choice with its 2K resolution (2560 x 1440 pixels) and a responsive 144 Hz refresh rate (reaches 165 GHz on when overclocked). It features NVIDIA G-SYNC technology to eliminate screen tearing which provides gamers the epic gaming experience and helps to secure the victory.
The monitor has n 27 inch IPS display which wraps you in a world of entertainment with every corner of the screen at the same distance from your eyes from a uniform viewing experience without blind spots. The Acer ErgoStand lets you pivot, tilt, swivel and moves up or down the monitor according to your comfortable viewing angle.
The Acer Predator XB271HU sports 100%RGB color gamut and 6 axis color adjustments ensuring the highest level of color accuracy. Also, there is an Ultra Low Motion Blur (ULMB) technology that makes moving objects sharp and reducing ghosting or smearing effect.
View our Full Review of Acer Predator XB271HU
10. LG 27UK650-W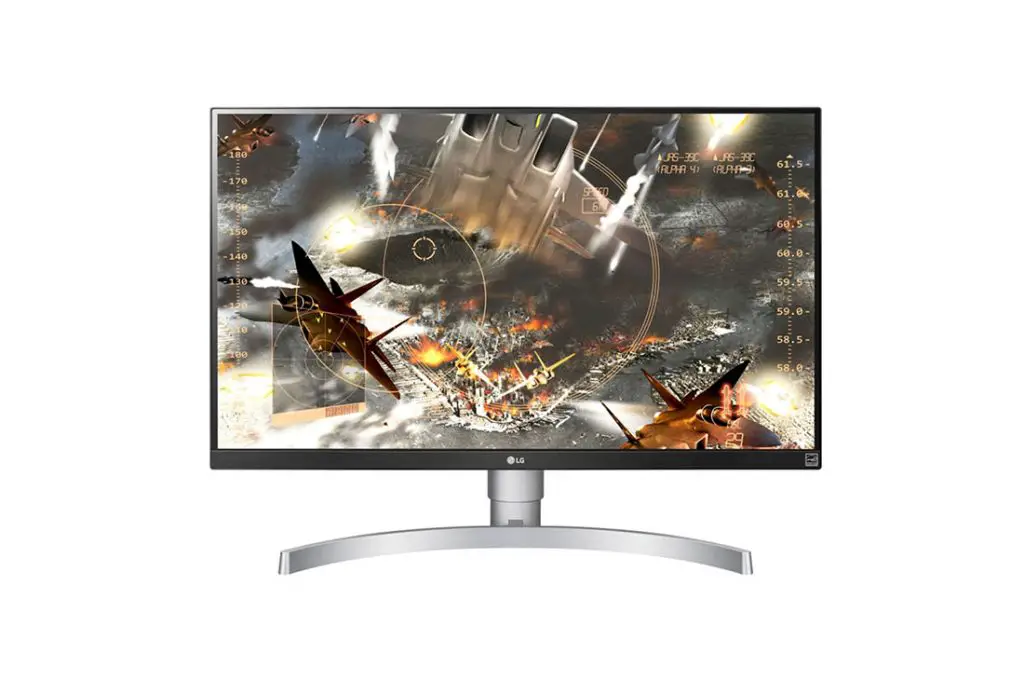 This LG monitor features a 27 inch IPS 16:9 display with 4K resolution (3840 x 2160 pixels) and comes with support for AMD FreeSync technology for smooth gameplay and reduction of tearing. It has a refresh rate of 60Hz, a response time of 5ms, HDR10, 450 nits brightness, and a height-adjustable stand.

It comes with gaming modes like DAS mode, black stabilizer custom modes, and flickering free technology. For connectivity, there are 2 HDMI ports, 1 Display Port, 1 Audio-Out Port, and 1 Headphone port.
Conclusion
This is the final list of the best gaming monitors in the market. You can select them according to your gaming type, preferences and brand selection. Also, keep in mind the other components in your gaming rig.