ASUS ROG Strix XG32VQ Review
Summary
The ROG Strix XG32VQ is our favorite gaming monitor. It has brilliant image quality and awesome contrast ratio which makes it better than most of the gaming monitors. The monitor fills up the entire peripheral vision of the user making it a very immersive experience. The high refresh rate and FreeSync are icing on the cake and make the overall experience better.
Refresh Rate

Resolution

Brightness

Connectivity

Power Consumption
Pros
Awesome design
Great options for RGB fanatics
FreeSync
Dope 144Hz Refresh Rate
A variety of OSD options and easy to Calibrate
Cons
The stand takes a lot of space
Brightness is not the best
The Republic of Gamers series from ASUS is all about gaming. We have seen all sorts of hardware which are ROG branded and these focus on only one aspect – gaming. Ever since ASUS released its enormous series of monitors, ROG fans used to complain about the frame and refresh rate. It used to be sluggish when compared to other gaming monitors in the market.
ASUS, since then, has fixed most of the cons of its previous series. It has added some pretty cool features especially for gamers like the FreeSync technology which works flawlessly with AMD supported Graphics card. Also, a high refresh rate makes all the things buttery smooth.
Now, Let's first have a look at what ASUS offers us with ROG Strix XG32VQ.
ASUS ROG Strix XG32VQ Review
Specifications
Screen Size
31.5" (80.1 cm)
Resolution
2560 x 1440 (Quad-HD)
Aspect Ratio
16:9
Response Time
4 ms
Refresh Rate
144 Hz
Panel Type
VA
Contrast Ratio
3000:1
Brightness
300 nits
Viewing Angles
178° horizontal
178° vertical
Screen Coating
Gloss & Matte Finish
Adaptive-Sync Technology
FreeSync
Speakers
N.A.
Display Adjustments
Tilt (-5° to 20°)
Swivel (-50° to 50°)
Height (100mm)
VESA
Connectivity
1 x HDMI
1 x DisplayPort
1 x Mini DisplayPort 1.2
1 x 3.5 mm Mini-Jack
3 x USB 3.0 (1 x upstream, 2 x downstream)
Wall Mount
VESA
Power Consumption
43 Watt
Weight
9.6 kg (With Stand)
5.9 kg (Without Stand)
Warranty
3 Years
Design
The first thing you are going to notice after looking at the XG32VQ  is its three-sided bezel-less design. The monitor is a curved one, with a curvature of 1,800mm. What sets it apart is its 16:9 aspect ratio which isn't really ultrawide but still wider than standard monitors. With its 31.5" diagonal size, the monitor fills up all the peripheral vision of the user and makes it a great gaming advantage.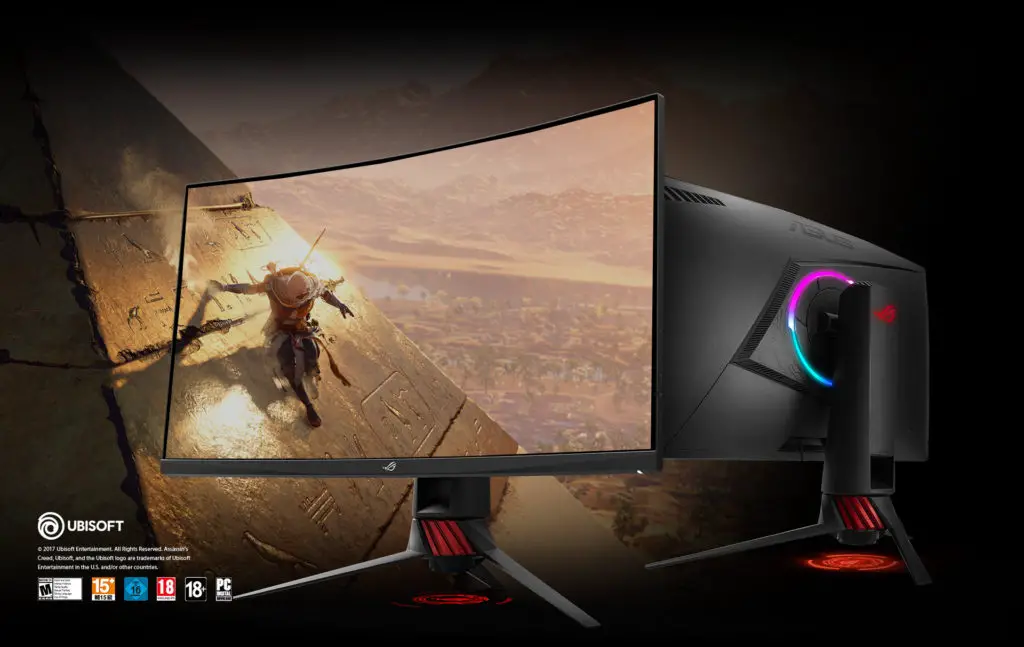 On the bottom, there's a cool flashy projector light that throws off the ROG logo and is completely customizable. There are two lenses for that using which you can either project two logos or a single soft one. Both of these projecting lights can be controlled by OSD and Aura Sync as well.
Speaking about the bottom, the supermassive stand might be a problem if you have a small desk. The stands spread out like airplane propellers to support the massive monitor. But the ability to adjust the height and swivel it around 50 degrees justifies the stand's spread out design.
Now coming to the backside, things start becoming a little interesting. Instead of traditional buttons, ASUS has provided a joystick which lets you control the monitor's OSD. This is an excellent design choice, which makes controlling the OSD flawless. There's also a circular RGB strip on the rear that works with ASUS'  Aura Sync. You can also sync it with other Aura Sync supporting peripherals like keyboards and mice.
Features
Many of the previous ASUS monitors had the issue of input lag. This time, ASUS is supporting "FreeSync" technology on this monitor which is based on AMD's FreeSync. So you can enjoy tier-free gaming and no input lag when you use any of the compatible AMD Graphic cards. But even if you use Nvidia, you still get 1440p at 144Hz. Nvidia graphics coupled with Adaptive V-Sync technology could give you a tier-free gaming experience but it will increase input lag. So keep that in mind before getting the XG32VQ.
Speaking about refresh rates, it's 144Hz at its peak with variable-refresh FreeSync operation down to 48Hz. When the content o your screen drops below 48fps, the 98Hz will double up using Low Framerate Compensation. This means that even at low frames per second, you won't see any screen tearing assuming that you have a decent graphics card.
OSD and Setup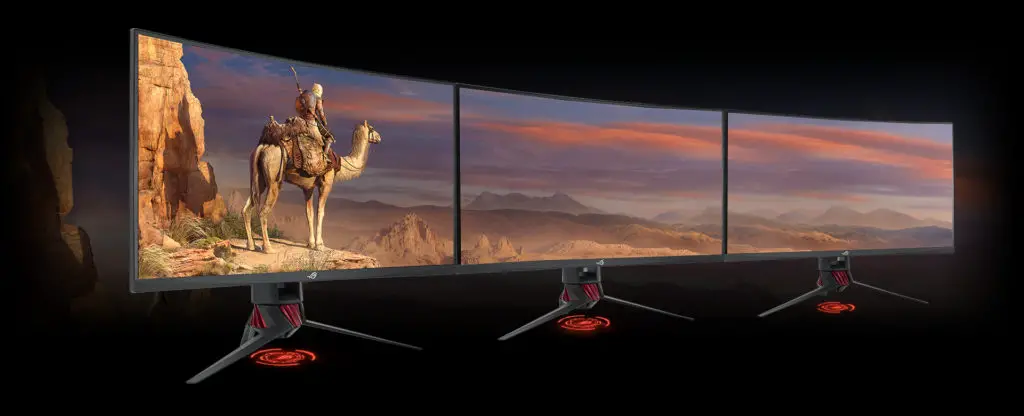 The XG32VQ's On-screen Display (OCD) is easy to set and calibrate with the Joystick control provided. Just press the joystick to bring up the OCD menu and you can move it in any direction to navigate. Let's take a quick look at each of the modes.
GameVisual – With GameVisual, you can set different picture modes according to your needs. There is a total of 8 picture modes and the default one is Racing. All of these pre-sets come with more customization. There's also an sRGB mode which locks out the adjustments and increases the brightness to 165 nits. However, we felt that brightness was still dull when there's a bright environment and it still operates at DCI-P3 gamut.
Blue Light Filter – As the name suggests, the Blue Light filter helps to block off the blue light on the monitor and reduces eye strain during the long duration of exposure. If you work on documents like Word and Excel for a long time, you can use this feature to reduce eye fatigue without changing your calibration settings. There are four strength levels for the Blue Light Filter.
Color – This menu provides basic Color settings for your monitor. There's the basic brightness, contrast, and Color saturation sliders. In addition to that, there are three gamma options as well. You can adjust them ranging from 1.8 to 2.5. The difference is significant and you can see it clearly, given the high contrast ratio of the panel.
Image – In the Image menu, there are five-level toggles for overdrive, aspect ratio options, dynamic contrast, and even one for FreeSync. You can turn the FreeSync option only when you're using one of the FreeSync-compatible graphics cards.
Additional Options
Other options include Light In Motion, Aura Sync, and Aura RGB all of which can be used to set up various RGB lighting options on the monitor. You can modify various effects like a pulse or breathe, and intensity – the possible combinations are numerous. So RGB fans won't be disappointed.
There are other nifty options as well, like the ability to turn off the USB ports in standby to save power, change the OSD language, timeout, and transparency, etc.
Screen Calibration
As we earlier mentioned about GameVisual, you can easily calibrate your monitor. Both the Racing and User modes can be customized easily. However, the sRGB cannot be calibrated which is a huge bummer as it retains the native DCI-P3 spec.
You can just use our recommended settings which ensures the colors are accurate.
| | |
| --- | --- |
| GameVisual | Racing |
| Brightness 200cd/m2 | 74 |
| Brightness 120cd/m2 | 33 |
| Brightness 100cd/m2 | 23 |
| Brightness 80cd/m2 | 14 |
| Brightness 50cd/m2 | 1 |
| Contrast | 78 |
| Gamma | 2.2 |
| Color Temp User | Red 100, Green 97, Blue 98 |
Performance
ASUS has worked hard for reducing input lag on the XG32VQ by using FreeSync on this one. This makes gaming at 100fps buttery smooth when coupled with that 144hz refresh rate. The panel on this one is perhaps a bit dull when compared to other competitors. Also, there's motion blur here and there, but the high refresh rate and super smooth FreeSync makes up for it.
As we mentioned earlier,  Low-Frequency Compensation starts doing its job when it hits below 48Hz. So even 30fps doesn't seem choppy on the eyes. The image depth and contrast are excellent as well with a 3000:1 contrast rather than 1000:1 found in most other monitors of the same category. All of these heavy jobs make out the power consumption at 43W. This can be considered average for a monitor so massive.  
Connectivity Options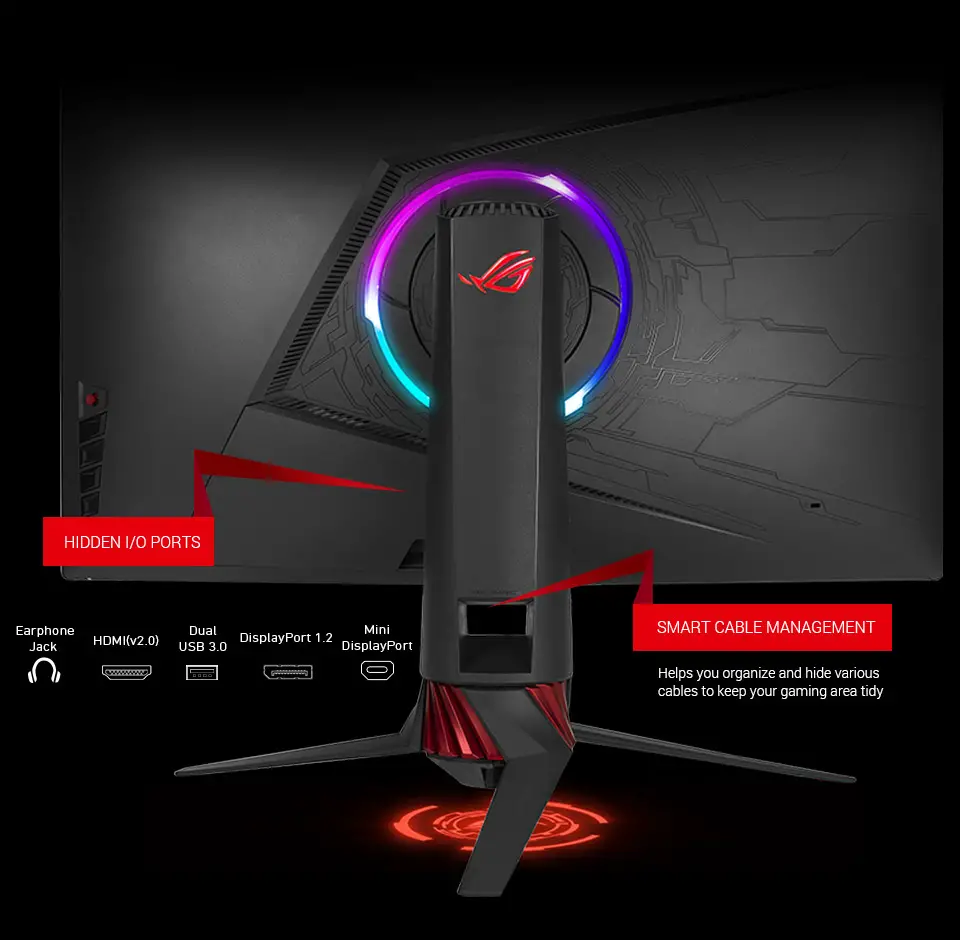 The XG32VQ offers a wide selection of connectivity options, including DisplayPort 1.2, HDMI port, Mini DisplayPort and earphone jack, USB 3.0 ports. There's even clever cable management included in the stand, which will help you make your setup cleaner.
Our Final Verdict
The ROG Strix XG32VQ caters to the users of all demands, with the best in class refresh rate, 144Hz screen, and FreeSync. The XG32VQ is wide and tall, which completely immerses you into the content present on your display. There's excellent image quality, with even better contrast ratio than most of the other monitors. But the lack of a true sRGB option is a bit disappointing.
Some people might also find ASUS' implementation of BT.1886 gamma not good enough. A 2.2 gamma could have been a better choice for a monitor of this size and quality. And how can we forget a bunch of RGB lighting tweaks ASUS has put inside this monitor. Also, the OSD joystick on its back gives it a more convenient touch which not everybody thinks about.