Acer Predator XB271HU Review
Summary
It is truly a fantastic gaming monitor which can also serve other needs. Buying one will instantly transform you into a better gamer, especially if you have upgraded from a standard 60Hz monitor.
Refresh Rate

Resolution

Brightness

Connectivity

Power Consumption
Pros
Remarkable Gaming Performance
144Hz Refresh Rate
NVIDIA's G-Sync Support
Cons
Speakers are okay
Complex OSD
There are many Predator monitors available in the market including 27-inch and 32-inch 4K models, but the Acer Predator XB271HU brings the best balance and hits the "sweet spot" for the gamers. It is one of the premium gaming monitors that combines a 144Hz refresh rate and a 1440p IPS panel along with NVIDIA's G-Sync technology.
Acer Predator XB271HU Review
Specifications
Screen Size
27"
Resolution
2560 x 1440 (Quad-HD)
Aspect Ratio
16:9
Response Time
4 ms (GtG)
Refresh Rate
144 Hz (165 Hz OC)
Panel Type
IPS
Contrast Ratio
1000:1
Brightness
350 nits
Viewing Angles
178° horizontal
178° vertical
Screen Coating
Anti-Glare
Adaptive-Sync Technology
NVIDIA's G-Sync
Speakers
Built-in 2W stereo speakers
Display Adjustments
Tilt (-5° to 35°)
Swivel (60°)
Height (152mm)
Pivot (90°)
VESA
Connectivity
1 x HDMI 1.4
1 x DisplayPort 1.2
4 x USB 3.0
1 x 3.5 mm Headphone Jack
Wall Mount
VESA (100 x 100 mm)
Power Consumption
32.02 Watt
Dimensions
24.2 x 10.6 x 21.7 inches
Weight
8.0 kg (With Stand)
5.8 kg (Without Stand)
Warranty
3 Years (US)
Design and Ergonomics
The Acer Predator XB271HU is an excellent monitor with a small and sleek stand. The design might not appeal to everyone due to gamer-inspired aesthetics. There red parts of the "stand" stand out matching with the Predator logo on the front. The wide base prevents it from moving and wobbling. The bezels are sleek at the top and bottom which is useful for multiple-monitor setups. From the side, the monitor looks a tad bulky.
On the Ergonomics front, the monitor lets you rotate the display 30 degrees in either direction while providing 40 degrees of tilt adjustment (5 degrees forward and 35 degrees back). Further, it allows 150 mm (5.9") height adjustment. The base is 45 centimeters in width and around 28 centimeters in depth. You will find 100 x 1000 mm holes for VESA mount.
 For 1440p at 165Hz the DisplayPort comes into use and there is an extra HDMI port that maxes out at (2650 X 1440) at 60 Hz. There are five buttons placed next to the power button in the lower-right to navigate the OSD. For ports, there is quad-USB 3.0 hub (two ports at the side), a headphone jack, and 2x2W DTS built-in speakers.
Features
The monitor has a 27-inch high QHD resolution (2560 x 1440 pixels) IPS display with a 16:9 aspect ratio and a pixel density of 109 PPI. It has a 4ms response time and a 144Hz refresh rate that can be further overclocked to 165Hz.
The Acer Predator XB271HU not only looks like a gaming monitor but performs as well. Like the rest of the Acer Predator XB1 series monitors, it offers additional gaming features such as Dark Boost that allows you to alter the gamma curvature and increase visibility in the dark section in video games. For FPS (First Person Shooter Games) there is a custom Aim Point on-screen for better precision with three customizable profiles.
You can choose from a set of pixel response overdrive modes such as Off, Normal and Extreme mode though we suggest using either Off and Normal. There is a Game Mode hotkey that allows users to choose from a set of three gaming profiles to customize picture settings. There is  ULMB is for Motion Blur Reduction while an integrated Blue Light is set to help lessen eye strain.
OSD and Setup
You can navigate the on-screen display (OSD) of Acer Predator XB271HU using the five unmarked front-facing buttons. However, the buttons feel cheap and get uncomfortable and clunky to use. The exact function of each button depends upon where you are in the OSD. To know it, you have to see what is drawn on the screen directly above it.
Pressing any of the buttons will open a quick menu with five options – Game Mode, OverDrive, Speaker Volume, Input Selection, and Function Menu. The Functions menu opens up to a wider menu giving more options. The first option called "Picture" lets you adjust brightness and contrast along with the eColor Management option. The Color Menu lets you change the gamma with options 1.8 or 2.2, adjust color options (User, Cool, Warm, Blue Light). The 6-axis color options let you adjust the chroma of red, green, blue, cyan, yellow and magenta in a span of 1-100 for each color.
In the OSD menu, users can change the language and the transparency of the OSD, making the monitor display the current refresh rate on the upper right corner and activate ASUS's "Game Mode". In the settings menu, you will find customization options such as turning on/off the blue button next to the power button, activate the USB 3.0 ports after monitor goes to sleep, turn on ULMB (Ultra Low Motion Blur), and overclock the panel from factory set 144Hz to 165Hz. The last menu Information displays the resolution, current refresh rate, G-Sync and Game mode activation status.
Quality
The Acer Predator XB271HU comes with AU Optronics M270DAN0.26 IPS 8-bit panel with a White-LED (W-LED) backlight unit. While running there is no screen flickering or any sort of discomfort. The Gamma was around 2.0 and 2.1 but there were no signs of washout images in playing games or doing other activities. Black and White's levels were okay but not perfect.
When first connected with default settings, the monitor uses its Standard Picture Profile setting the color temperature to Warm (6,500K), gamma to 2.2, brightness to 80, a contrast to 50 and saturation to 100 while other settings like Blue Light, Dark Boost, Adaptive Contrast, and sRGB mode are turned off. Changing any of these options will immediately switch the profile from Standard to User. The other factory profile settings are Standard, ECO, Graphics, and Movie.
After calibrating the settings, it is suggested to keep the color temperature at 6500K, gamma to 2.2 and brightness around 120 nits keeping a balance. The image quality immediately improved after the calibration. The colors were more realistic, the shadows were detailed and very few color banding remained.
Performance
The overall performance of the Acer Predator XB271HU is super-smooth mainly due to its high refresh rate panel supported by NVIDIA's G-Sync technology. It adapts and synchronizes the screen's refresh rate with the current framerate to give a tear-free smooth image. Overclocking the monitor is fairly easy and can be done by a single setting in OSD.
The monitor has a 4ms GtG response time and uses an overdrive technology to make the pixel transition faster. The option is labeled as "OD" in the OSD and has three different settings- OFF, Normal and Extreme. For gaming, the best settings seem to be the Normal. When it is off, there is noticeable ghosting in darker games while in Extreme it produces a lot of distracting details. In the case of Input lag, the measured value was below 10ms with the Overdrive in Normal which further increased after upgrading to Extreme.
If you are interested in the complete elimination of ghosting, Acer Predator XB271HU supports ULMB (Ultra Low Motion Blue) enabled by NVIDIA's G-Sync module. But the drawback is you can't combine, it is either ULMB or G-Sync. To use ULMB, you have to disable G-Sync and bring down the refresh rate to 120Hz. The brightness significantly decreases after that and is much less compared to what we get with G-Sync enabled.
Connectivity and Power Consumption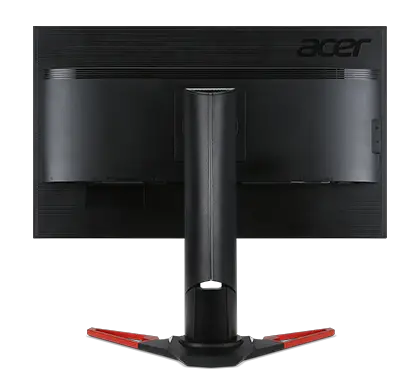 Like any other monitor with NVIDIA's G-Sync module, the Acer Predator XB271HU is limited to HDMI (1.4) and DisplayPort (1.2) video inputs. If you plan on utilizing its high refresh rate and G-Sync, HMDI will not work as it unable to deliver 144Hz at 1440p resolution. The only option to connect to PC is via DisplayPort. The speakers are barely useful, and its best to connect a pair of headphones with the 3.5mm audio jack. Out of the three USB 3.0 ports available, one of them functions as an upstream port while the other two can be connected to peripherals or external hard-drives. The USB 3.0 ports on the side can be used to connect temporary drives like memory sticks or SD card reader as anything you plug will stick out.
The power unit is built into the monitor eliminating the need for an external power brick. The monitor's power consumption is still high in Sleep mode with nothing connected to the USB 3.0 ports.  After the Deep Sleep function kicks in, the power consumptions drop significantly but make sure you keep the option turned on in the on-screen display.
Final Verdict
It's no surprise that even after four years, Acer Predator XB271HU continues to be a popular 2K monitor. It is truly a fantastic gaming monitor that can also serve other needs. Buying one will instantly transform you into a better gamer, especially if you have upgraded from a standard 60Hz monitor. It looks good, has all the necessary ports and features. The monitor does have its cons, but with a perfect calibration setting, it's perfect for everyday gaming and usage. After testing, we can sincerely recommend it to anyone looking for a gaming monitor.