Acer Predator XB241H Review
Summary
This monitor is worth the money. However it is a little expensive as compared to other 24-inch gaming monitors but you're getting the Nvidia G-Sync, what more can you ask for? There is a lot of other alternatives to this monitor from Acer itself but this model is THE BEST.
Refresh Rate

Resolution

Brightness

Connectivity

Power Consumption
Pros
Low input lag
Quick response time Hz/1ms monitor
Nvidia G-SYNC Overclockable up to 180Hz
Plenty of gaming features including ULMB
Good visuals for a TN panel
Fully adjustable stand
Fully ergonomic design 
Cons
Expensive
Locks your GPU choice to NVIDIA
Narrow viewing angles
Inferior image quality to IPS and VA panels 
No USB ports
Are you a gaming geek and looking for an advanced monitor to make full use of your gaming abilities? Well, we've found one for you!
Acer Predator XB241H is pretty much any 'green team' gamers' dream monitor. Feature-packed and that too at a great price! This isn't the first monitor by Acer that has blown the minds of people; we have a long list that is loved by gamers all over the world.
We'll discuss this amazing 24-inch monitor that is tagged as the first choice of gamers due to its G-sync technology and fast refresh rate of 108Hz. Additionally, its 1920×1080 Twisted Nematic Film panel (TN film), it delivers a smooth gaming picture. With all these amazing features and its aggressive design, this monitor evidently shares the predator pedigree with the other monitors in Acer's Predator line.
Let's get into details and find out if it is really worth so much fame or is it just a common gaming monitor?
Acer Predator XB241H Review
Specifications
Screen Size
24"
Resolution
1920 x 1080 (Full-HD)
Aspect Ratio
16:9
Response Time
1 ms GTG
Refresh Rate
144 Hz (180 Hz OC)
Panel Type
TN
Contrast Ratio
1000:1 (Static)
100000000 : 1 (Dynamic)

Brightness
350 nits
Viewing Angles
170° horizontal
160° vertical
Screen Coating
Anti Glare Coating
Adaptive-Sync Technology
NVIDIA's G-Sync
Speakers
Built-in 2W stereo speakers
Display Adjustments
Tilt (-5° to 35°)
Swivel (30°)
Height (5.91")
Pivot
VESA
Connectivity
1 x HDMI 1.4
1 x DisplayPort 1.2
1 x 3.5 mm Headphone Jack
Wall Mount
VESA (100 x 100 mm)
Power Consumption
28 Watts
Dimensions
22.3 x 2.4 x 13.2 inches (Without Stand)
22.3 x 10.5 x 21.34 inches (With Stand)
Weight
6.3 kg (With Stand)
3.9 kg (Without Stand)
Warranty
3 Years (US)
Design & Ergonomics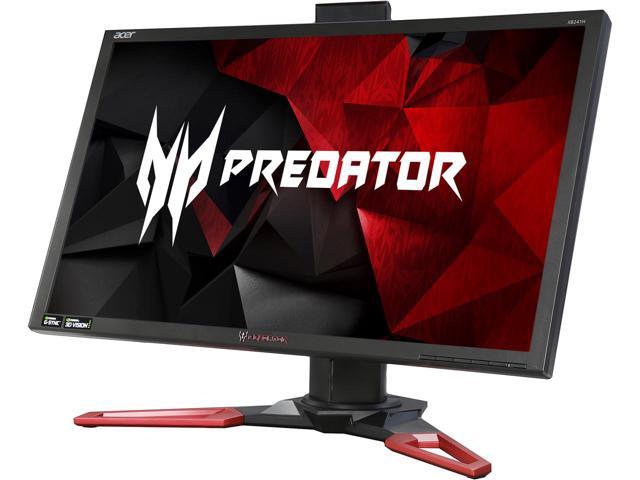 Talking about its physical appearance, it has a 24inch matte finish panel, encased in a matte black frame with a very minimal bezel with the predator logo embossed on the bottom trim. The whole package measures 22.3 x 10.6 x 21.4 inches and weighs around 6.30 kgs.
It comes with a V-shaped base that has a sturdy and shiny red accent, and the design emphasizes on its Predator moniker. Attached to it is a heavy-duty mount that can raise the screen up to 5.91" and swivel up to 30°. The screen can also be tilted at 90° for portrait mode of viewing in case you might want to use this monitor in a triple monitor portrait configuration.
It also comes with a 100x100mm VESA wall mount, if you change your mind and wish to hand in above your table to get more space.
Coming to the display quality, it comes with a screen resolution of 1920×1080 (Full HD) and just like all 1ms (GtG) gaming monitors, the Acer XB241H is also based on a Twisted Nematic panel which sacrifices color quality and viewing angles for a rapid response time speed.
So, you'll get less vibrant colors but faster pixel transition time.
The TN panel displays also have narrow 170°/160° viewing angles which cause the image to shift in color, brightness, and contrast when the screen is looked at certain angles and the aspect ratio of 16:9 (Widescreen) provides you a bigger display.
The anti-glare screen coating protects your eyes from harm after long gaming sessions and you also get 8-bit color depth, a standard contrast ratio of 1,000:1, and a bright 350-nit peak luminance which is totally adjustable according to your need.
Features
There are a lot of amazing features in this monitor that can amaze any gamer. We have listed the most important features below!
24-inch TN Panel
The Panel Technology in this predator gaming monitor by Acer is a Twisted Nematic Film kind of Technology or TN. The Pixel Pitch of this 24inch TN display is 0.276 millimeter and the Flicker-less Technology minimizes the pesky flickering which causes eye strain after long gaming sessions. The anti-glare screen coating also helps in eliminating eye strain.  
Nvidia G-Sync
Adaptive sync is an important feature in every gaming monitor. It works with a high refresh rate and delivers amazing picture quality and gaming experience. AMD's FreeSync is usually the first choice for the OEM when it comes to the 144 Hz TN monitors but Acer when with G-Sync that too for good and valid reasons. This decision has evidently impacted the monitor's MSRP.
So, why is FreeSync preferred over G-Sync anyways? The first reason is that it is relatively cheaper to implement. A monitor must have a scaler modular to support adaptive Sync and Nvidia charges licensing fees and requires OEMs to buy their proprietary scaler modules whereas AMD imposes no such restrictions. Therefore, FreeSync monitors are a greater insight that too at fewer prices.
So why Nvidia G-Sync in this monitor? Well, Nvidia require each G-Sync monitor to meet their strict standards and due to that G-Sync tends to work better and offers some extra features such as input lag reduction, motion blur reduction, etc. and since Acer was trying to make the XB241H a high-quality 144 Hz gaming monitor, it only makes sense that they would go with G-Sync instead of FreeSync
Built-in Speakers
This gaming monitor comes with integrated speakers that totally add to the convenience. The monitor boasts two rear-facing 2W speakers which are no extra spectacular but can get quite loud, and because of that, they can be a useful addition to the monitor's feature set if you want to watch a YouTube video but don't feel like putting your headset on, but for anything more serious, they just won't do.  
There is no punch and no boom in the sound that comes out of them and moreover, you'll want a proper gaming headset or a set of speakers for gaming, for watching movies, or for listening to music. But still, having in-built speakers in the monitor is again a great physical feature that is present is few gaming monitors.
Other than these main features, it comes with a fully adjustable stand and VESA mount that can provide tilt and swirl in any direction. It's embedded with a very fast and responsive rate of 144 Hz/1ms. It has low input lag and G-SYNC can be overclocked up to 180Hz. Not only this, but it also comes with plenty of gaming features including ULMB.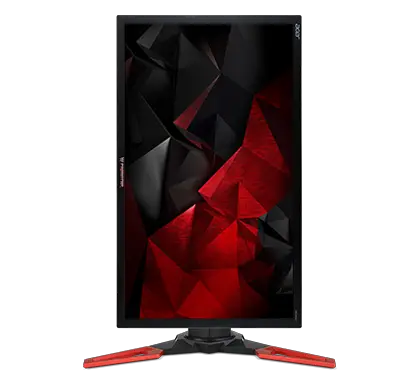 One important drawback of this monitor that they have compromised with the image quality to increase the refresh rate. Another irritating fact is that it locks your GPU choices to NVIDIA. G-Sync is only compatible with Nvidia GPUs. So, if you have an AMD GPU and are thinking of buying this monitor, you'd have to switch your GPU as well.
OSD & Setup
Nothing is more important for a gamer than the ON-SCREEN DISPLAY or OSD of the monitor. It has a direct connection with the performance of the monitor and the gaming effects.
So, let's find out what is stored inside Acer Predator XB241H that can blow the minds of gamers!
You can press any bezel key to bring up the quick menu. The first icon is a big 'G' which stands for Game Mode which has three memory settings. The second icon is for controlling overdrives, the third one is for volume, the fourth one for the input and the last one brings up the full OSD.
There are five picture modes in the Acer eColor Management and all of them are fixed except the user preset. If you'll make changes in another mode, it will automatically switch to the user.
The Blue Light comes in four different levels that warm the white point to reduce eye fatigue and the dark Boost helps in increasing low-end gamma to make shadow detail more visible.
You will find two gammas presets in the settings, 1.8 and 2.2. Although 2.2 remains the default, but users have noticed better accuracy using 1.8.
Color Temp has Cool, Warm and Blue Light settings plus a User mode and the saturate slider increases or decreases the saturation of all six colors at once. Another important point to be noted, the RGB gain sliders begin at their maximums so you'll give up just a bit of contrast when making adjustments.
The 6-axis controls affect only the luminance of each color which is great to minimize the adjustments. You'll also find the info screen which shows input, resolution and the refresh rate plus G-Sync status. If you're using the Game Mode presets, it'll also indicate which slot is currently active.
The Game Mode offers three memory slots that can be saved by using the Settings 1-3 options directly beneath and you can also place an aiming reticule in the center of the screen. Nothing compulsory, just the thing for FPS newbies.
And finally the most important part, the OSD is available in 15 languages and can be kept on-screen for as long as two minutes. Isn't that great?
SETUP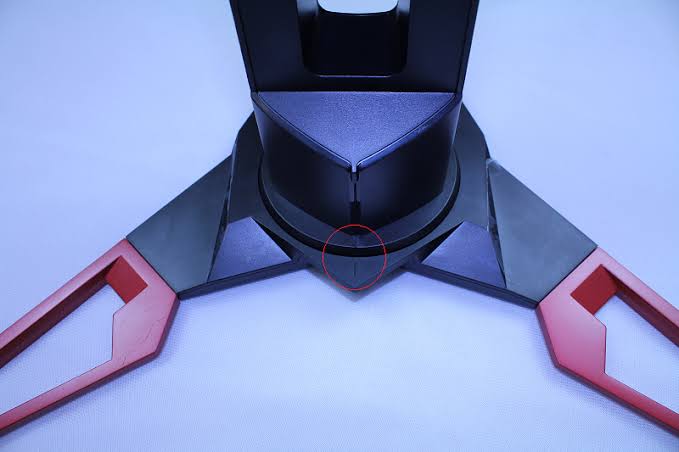 Unpack the box only by following the instruction given on the top of the box or you may end up damaging any parts.
It comes out in two parts, the widescreen LCD monitor and the shiny red stand.
You can use the stand to place the monitor on a table or if you want more space, you can hang it by using the VESA Wall Mount.
Other important pieces that come with this monitor include DisplayPort cable, HDMI Cable and power cable.
You'll also get a driver CD to install important software and a manual book to set and start the monitor.
The monitor is very simple to arrange and you can also take help from the manual that comes along with the monitor.
Quality & Performance
When we talk about performance, G-Sync plays an important role. G-SYNC allows the monitor's refresh rate to change dynamically according to the frame rate of the GPU but keep in mind that G-SYNC doesn't work with AMD cards so you'll need another Nvidia GPU.
Connecting an NVIDIA GeForce graphics card GTX 650 Ti or newer through the DisplayPort input on the Acer Predator XB241H 180Hz monitor allows you to enable the G-SYNC technology and in turn, you get a variable refresh rate which eliminates all screen tearing and stuttering without introducing a significant amount of input lag as VSync does.
You can also use the NVIDIA's Ultra Low Motion Blur (ULMB) technology which will reduce the perceived motion blur and ghosting in fast-paced games. But again, it cannot work at the same time as G-SYNC.
The Input Lag of this monitor is only ~4ms which is imperceptible even by professional gamers and effectively eliminates ghosting and trialing of fast-moving objects, fast-paced games feel significantly more responsive and immersive as a result of the rapid 1ms response time speed.
It also has a native refresh rate of 144Hz which you can easily overclock up to 180Hz in the OSD menu for an extra boost in the motion clarity.
The last but the most important performance feature of this monitor is that it is Energy Star certified and RoHS compliant. That means the monitor consumes low power and is mercury-free and works best for the focused gamers who are going to use this for hours. The LED backlighting again supports its low operating consumption of 28 watts and that is why it is considered to be an amazing high-performance monitor and also saves a lot on your electricity bill.
Connectivity Options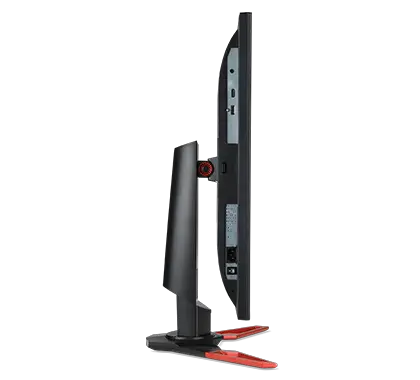 Coming to the connectivity options, you'll have to face a little disappointment in this regard. Although this monitor has a durable stand and VESA Mount but the connectivity options aren't as generous as it should be.
It only features one DisplayPort 1.2 port, one HDMI 1.4 port, and a headphones jack. The HDMI port on this monitor maxes out at 1920×1080 at 60Hz due to the G-SYNC module but still, it's a little heartbreaking fact that there are no USB Ports in this monitor.
It comes with two 2W integrated speakers which are a great addition but in any way, gamers get more satisfaction with a headset than speakers. These speakers give you a great sound experience while watching a movie or switching around the YouTube videos.
Final Verdict
In short, this monitor is worth the money. However it is a little expensive as compared to other 24-inch gaming monitors but you're getting the Nvidia G-Sync, what more can you ask for? There is a lot of other alternatives to this monitor from Acer itself but this model is THE BEST.
Of course, if you give more priority to the price, you might find this monitor a dubious investment. But if you look at it performance-wise, a TN monitor such as this one is the only way to get both a high refresh rate and a low response time, making Acer Predator XB241H a highly tempting choice. The decision is in your hands!