AOC Q3279VWFD8 Review
Summary
This is the best ever widescreen gaming monitor that comes at a great budgeted price. The 32" 1440p IPS display with crisp image quality, smooth performance and rich colors is the effective result of low input lag, quick response time and AMD FreeSync up to 75Hz and all of that in such low price.
Refresh Rate

Resolution

Brightness

Connectivity

Power Consumption
Pros
Quick response time
Low input lag
Flicker-free technology
A fast shift of pixels that initiates speed for fast-paced games
AMD FreeSync
Plenty of features
Value for money
Cons
Narrow FreeSync range
Tilt-only design
IPS glow during dark scenes
Do you love playing video games on a big screen? If yes, you must have come across the most tempting monitor in the market which has a screen size of 31.5 inches and is priced at an incredibly low rate!
AOC Q3279VWFD8 is believed to be the perfect solution for gamers working on a budget. It is all over the internet. But is it really worth the money? Does low price affects the quality of the monitor or does it really have a high-quality display to give you high-end gaming experience?
AOC Q3279VWFD8 Review
Let's find out! We have listed down all the important information about this sensational monitor to help you decide whether to put in your bucket list or not. Let's get into details and find the truth!
Specifications
Screen Size
31.5"
Resolution
2560 x 1440 (Quad-HD)
Aspect Ratio
16:9
Response Time
5 ms (GtG)
Refresh Rate
75 Hz
Panel Type
IPS
Contrast Ratio
1200:1 (static)
Brightness
250 nits
Viewing Angles
178° horizontal
168° vertical
Screen Coating
3H Anti Glare Hard Coating
Adaptive-Sync Technology
AMD FreeSync
Speakers
None
Display Adjustments
Tilt (-3.5° to 23.5°)
Height (533mm)
VESA
Connectivity
1 x HDMI 2.0
1 x Display Port 1.2
1 x DVI
1 x D-Sub
1 x 3.5mm Audio Out
Wall Mount
VESA
Power Consumption
50 Watts (Average)
Dimensions
72″ x 20.98″ x 6.03″
Weight
7 kg
Warranty
3 Years
Design & Ergonomics

As already mentioned in the beginning, this monitor has got a giant screen size of 31.5 inches. It boasts a modern slim design with somewhat thick bezels and the whole package measures 425mm x 730mm x 153mm in size. It weighs around 7kgs with the stand, so if you're buying this monitor make sure you have enough space on your table to accommodate this huge piece of wonder!
The matte finish screen coating makes it really stylish and also eliminates reflections. You can find this matte screen coating only in a few models of AOC. Assembling the monitor is also a few minutes' tasks. You will get it out of the box in two pieces: the matte finish screen and high-quality aluminum skinned stand plate.

The drawback of this stand is that it only allows tilt (-3.5° to 23.5°) and no twist and rotational movement. If you're thinking about a wall mount, forget that idea as it doesn't come with any VESA mounting holes.
Talking about accessibility, all the inputs of the monitor are located on the lower back of the monitor with a high quality plastic cover to avoid any accidental breakage.
Getting all this and that too in just about $200. What more do you want? Let's find out more about its features and other important things.
Features
There are a lot of amazing features in this monitor that can astound any gamer. We have listed the most important features below!
Huge IPS Display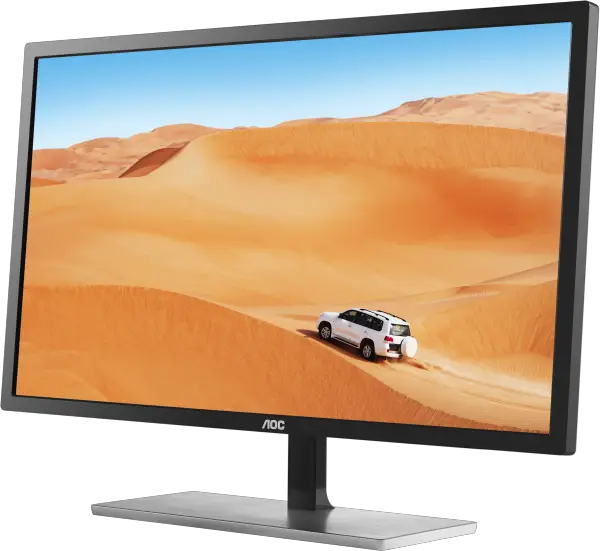 The large and stylish 31.5inch Wide Quad HD display and IPS 10-bit Panel together can help you experience a display of up to 1.07 Billion stunning colors. It also gives you more room to play with different applications at the same time. The high-resolution display results in a comfortable pixel density, eliminating the need for scaling and allows you to immerse yourself in games on a huge display.
Flicker-Free Technology
The amazing AOC Flicker-Free Technology helps reduce fatigue & eye-strain when you're working or playing for long hours. It utilizes a DC (Direct Current) backlight panel that reduces flickering light levels. You can also use the low blue light filter if you're sensitive to screen flicker and freely enjoy long, intense gaming sessions in comfort!
QHD Resolution
The Quad HD (QHD) offers superior picture quality with 2560 x 1440 resolution and sharp imagery that reveals the finest of fine details of the screen. Plus, the widescreen 16:9 aspect ratio is helpful in providing plenty of space to spread out and work, allows you to enjoy games or movies in their original size.
FreeSync
Another very important feature of this monitor is AMD's FreeSync technology that provides super smooth graphics by eliminating screen tearing when connected to compatible graphics cards. It works by matching the frame rate output of your GPU to your monitor's refresh rate, eliminating input lag and screen tear and stuttering. So, it is also a good option for people who love occasional gaming sessions.
Other than these main features, AOC monitors also come with shadow control and game control features for fast gamma and color adjustments. Other than this, you will also find three customizable gamer profiles, FPS, RTS, Racing, and as well as the Overdrive setting with four presets: Off, Weak, Medium, and Strong.
Only one feature or call it a design malfunction that we hate in this monitor is the location of the buttons to access the OSM, five of them placed along the right rear edge of the frame, looking at the screen front-on which are quite irritating to get hands-on. But this is not a very big issue. The whole monitor is a great package for gaming as well as serious applications.
OSD & Setup
When it comes to gamers, high-quality On-screen display is what they crave. Thankfully, AOC is known for its unique looking OSD which is far better and classy than the normal displays. You'll get a 3D looking on-screen display that appears at the bottom of the screen and covers much of its width.
The OSD in AOC monitors are displayed at the bottom center of the screen by default, but you can adjust and move it around if you wish. Let us take you on an OSD tour of the AOC Q3279VWFD8 monitor.
You can adjust the brightness (backlight), Gamma (3 presets), contrast, DCR (dynamic contrast), shadow control (a low-end gamma control) and overdrive (4 levels) in the luminance sub-menu. Raising shadow control improves dark-end details and results in upping the black level.
The game mode option changes the picture parameters and offers three presets and two user memories. To get the best results, leave it on simply calibrating the Standard Eco Mode.
The Eco Mode selector also changes the picture preset and the use of all calibration options is only allowed in Standard mode. More 5 modes are present to make various adjustments to color temperature, gamma, and brightness.
You can also adjust transparency for a maximum timeout of two minutes and you can also set a break reminder for one or two hours and change the DisplayPort version. But you have to choose 1.2 for FreeSync to work.
You can also choose between 4 white point options in the color setup menu plus the RGB sliders have some unique properties.
For people, who give a huge preference to the brightness adjustments while gaming, picture boost is an interesting option. It allows you to create a bright window on the screen and size and position it. It also lets you adjust the contrast and brightness of the screen.
There are also various controls for tweaking the clock, sharpness, position of the image and phase but they are locked out for HDMI and DisplayPort Signals while using VGA input.
The overdrive will get disabled at refresh rates over 60Hz and it will work in FreeSync mode as long as you don't specify a higher rate but this will not hinder your smooth gaming at all.
The sub-menu contains an input selector, aspect ratio control, off timer and a reset function. In the same panel, you will find the signal information in the form of resolution, H/V scanning frequencies and refresh rate.
Setup
It is suggested to unpack the monitor only by following the instructions written on the box itself to prevent any damages.
You'll get a sturdy and shiny stand plate and an AOC CD with drivers and manual, a three-pin plug, a display port to display port connector, HDMI to HDMI connector along with the matte polished display.
A hook kind of button is attached to the base plate to help the monitor stand on the table.
All the buttons are located at the bottom of the monitor and all the connection ports are at the sides.
The monitor is quite easy to arrange and start. You can also use the manual that comes along with the monitor to get more information on how to set everything up!
Quality & Performance
We just want to say one thing before getting into details of the performance and quality of AOC Q3279VWFD8, excellent performance is not always costly and this monitor has proved it!
The IPS panel of the AOC Q3279VWFD8 has more accurate and consistent colors than any other AOC monitor and therefore it is the best choice for color editing. The 178-degrees wide viewing angles with the IPS panel get you the best display quality, unlike the VA panel which causes the image to slightly shift in contrast when the screen is viewed from skewed angles.
The IPS panel has only one major drawback that makes it a little bad option for watching movies in dark. The reason is the IPS glow but it is not usually noticeable, you will notice it only when you're watching dark scenes in a dark room with no lights at all.
On the other hand, the IPS panel initiates the fast shift of pixels from one shade to another which makes it the best option for fast-paced games.
The 1440p resolution on the widescreen of AOC Q3279VWFD8 gives you almost the same pixel density as of a 1080p resolution of a common monitor. The ~5ms refresh rate also works well for this monitor. It eliminates all the screen tearing and stuttering but without introducing input lags.
Connectivity Options
Coming to the connectivity options, As a gamer, you must be willing to get as many connectivity options as you can. So, the happiest part for you is that you'll get a wide range of inputs including Display Port 1.2, HDMI 1.4a, DVI, & VGA to ensure compatibility with all different devices, both new & old.
A headphone jack is also present in the monitor but there are no built-in speakers. The FreeSync range of AOC Q3279VWFD8 is about 48-75Hz over both HDMI and DP. The Power connection is via the standard IEC type, and the power supply is encased to avoid the external box scenario.
Final Verdict
In short, this is the best ever widescreen gaming monitor that comes at a great budgeted price. The 32" 1440p IPS display with crisp image quality, smooth performance and rich colors is the effective result of low input lag, quick response time and AMD FreeSync up to 75Hz and all of that in such low price.