Dell P3418HW Review
Summary
The Dell P3418HW is a uniquely designed curved monitor that offers a whole new world of work experience. It is ultra-modern in its look and doesn't disappoint in its features either. It has a full HD display with excellent color and brightness. The display of the screen is intuitive and user-friendly. It offers various settings that complement the type of work you are doing. The monitor performs commendably in a regular work scenario. There are different connectivity ports too that allow a harmonious setup between multiple devices. In short, this Dell Curved Monitor delivers on all of its promises and brings new-found ease into work experience.
Refresh Rate

Resolution

Brightness

Connectivity

Power Consumption
Pros
Large-sized monitor with a good aspect ratio
Multiple ports
Adjustable stand
High performance for general office work
Cons
Maximum resolution is only 1080p
No HDR support
Laptops are great for their portability but too often we find ourselves squinting at the screens trying to make out the tiny print. If you have no need for their portability, then why not get your own desktop setup? A complete desk office is a great way to get your work organized and increase your efficiency. You can put together components from different companies depending on what you are looking for.
Speaking of these components, do you have a monitor in mind? A good monitor is essential if you want to keep your work quality high. If you don't have a monitor in mind, we can suggest one. The Dell 34″ curved monitor is all the rage and is a forerunner in the race for quality.
Dell P3418HW Review
Specifications
Screen Size
34"
R3800 Curve Radius
Resolution
2560 x 1080 (Full-HD)
Aspect Ratio
21:9
Response Time
8 ms (Normal)
5 ms (Fast)
Refresh Rate
60 Hz
Panel Type
IPS
Contrast Ratio
1000:1 (typical)
Brightness
300 nits
Viewing Angles
172° horizontal
178° vertical
Screen Coating
3H Anti Glare Hard Coating
Adaptive-Sync Technology
N.A.
Speakers
2 x 9W
Display Adjustments
Tilt (-5° to 25°)
Height (115mm)
Swivel (-30° to +30°)
VESA (100mm)
Connectivity
2 x HDMI 1.4 (HDCP 1.4)
1 x DP 1.2 (HDCP 1.4)
1 x mDP (HDCP 1.4)
1 x USB 3.0 port - Upstream
2 x USB 3.0 ports - Side
2 x USB 3.0 ports - Bottom
1 x Audio Line Out
Wall Mount
VESA (100mm)
Power Consumption
40 Watts (Typical)
120 Watts (Maximum)
Dimensions
813.9 x 368.1 x 51.35 mm
Weight
6.81 kg
Warranty
3 Years
Design & Ergonomics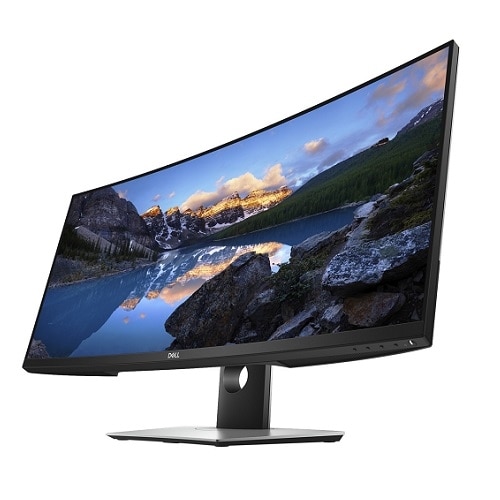 Dell P3418HW 34" monitor released by Dell is specifically designed to increase your productivity by reducing the movements of your eye and any peripheral distractions. The screen is curved with a radius of 3800 R, which is the prime reason for the obliteration of the peripheral distractions. It gives excellent visibility and immersive experience when you work.
The monitor is 32 inches in terms of its width and 34 inches in the diagonal. The increase in its diagonal implies an incredible rise in the view over smaller diagonals. The more prominent display also means an increase in clarity of the work. Also, the bezels are quite slim to give a classy finish to the product's look.
The screen is supplemented by a stand that supports it adequately with its broad base. It has a hole in it for cables. You can opt for different stands depending on the area of your work desk. It permits easy maneuvering. The stand can be set in swivel, height, and tilt to accommodate the view of the person and to provide comfort while working. This is highly useful for individuals who work for long hours in front of the screen. You can adjust the height up to 115 mm. The tilt can be set for minus 5 degrees to 21 degrees while the monitor can be swiveled for 30 degrees in both directions. There is also a 100 mm VESA mounting support.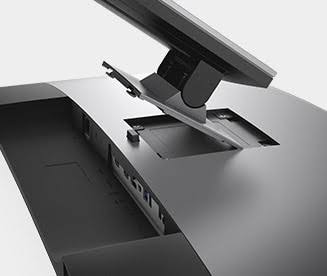 The screen is itself covered by an antiglare coating that goes a long way if you are working in a bright environment. The panels used in the monitor employ In-Plane Switching technology which is known for its excellent viewing angles apart from the vibrant color display. The aspect ratio is 21:9, which gives you an ultra-wide view with high visibility.
Features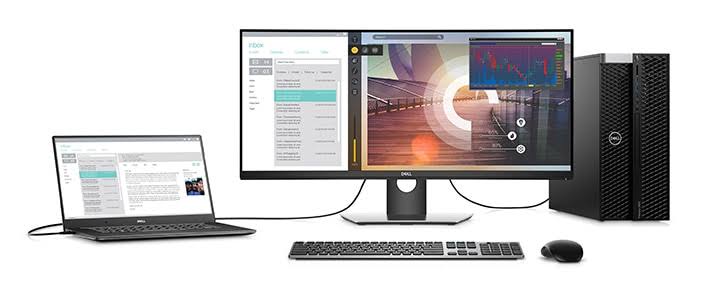 As already discussed, the viewing diagonal is 34 inches for this monitor with a horizontal of 32 inches and a vertical of 13 inches. The maximum resolution in this monitor is 2560 x 1080 at 60 Hz, which makes it an excellent choice for simple work that is not related to photo or videos and their editing.
The radius of curvature is R3800, and the aspect ratio is 21:9. The pixels-per-inch value is 81.7, with a typical brightness of 300cd/m². The color gamut is 99% coverage on the sRGB spectrum with a depth of 16.7 million colors. The contrast ratio is 1000:1.
The panel uses IPS technology and has an antiglare coating. It is backlit by a white LED edge light system. The response time is 5 ms in the fast mode and 8 ms in the standard mode. The screen also employs Comfort View that is free from flickering. It is TUV certified and reduces blue light emissions to increase eye comfort. There are two integrated 9W speakers in the monitor.
On-Screen Display & Setup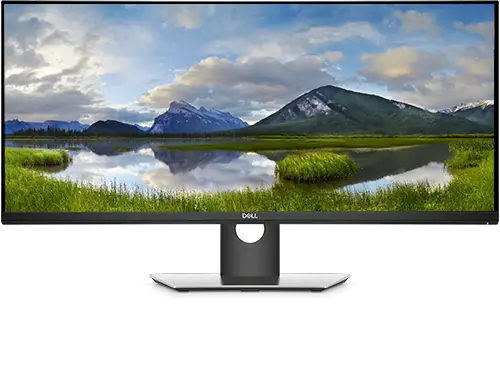 Dell is known for its Dell Display Manager that manages and customizes the display of your screen. Using this, you can easily adjust the displayed images, organize windows, change automatic settings, rotate images, configure the energy management and more.
You can change the most common settings such as the brightness, contrast, layout, and resolution with a click of a button. Apart from this Basic mode, there are other modes too such as Auto Mode, Input Manager, Easy Arrange and Options.
The Auto mode allows you to create a Preset mode with your desired settings that can be activated at any time. In case you have more than one monitor, you can select it to be displayed on all the monitors simultaneously, or you can set individual modes for each one. There are several preset modes already such as Standard, Comfort View, Game, Movie and Color Temperature. Comfort View is set in such a way so as to reduce the strain on your eyes by emitting less blue light.
In the Input Manager, you can manage the inputs connected to the monitor. In the case of using multiple screens, you can switch between inputs quickly and easily. All ports are listed and can be named individually.
The Easy Arrange mode is for arranging all your open windows into a simple yet efficient layout for increased productivity. It is very to use as you only have to drag and drop the windows into the predetermined plan. If you are not comfortable with the preset layout, you can create your own quite easily.
The monitor is also known to support PIP and PBP which stand for Picture in Picture and Picture by Picture respectively. You can choose to switch from Off to PIP small, PIP large, PBP Fill or PBP Aspect Ratio. You can connect your laptop or TV to the screen before you sit down to work.
Quality & Performance
This monitor by Dell has proven that a curved screen can definitely increase your productivity. The large size of the monitor helps in working on several windows simultaneously without having to minimize and maximize any of them repeatedly. You can navigate between windows reasonably easily and even keep them open side by side for referral purposes.
The display of the monitor ensures that even the widest documents can be displayed in one go. You don't need to continually scroll through to get to the end of the width of the document. There is no need for resizing or re-centering your documents.
The 99% on the sRGB spectrum implies high color quality which is visible while using the screen. The brightness of the LED-backlit panel was adequate and resulted in a well balanced, vibrant yet realistic image.
The resolution of the screen is lower than what is expected nowadays. It is a full HD screen with a resolution of 1080p. This makes it great for office documents only and not-so-great for significant photo and video editing or gaming.
The performance of its speakers is also notable. There are two built-in speakers, each of 9W. The sound delivered is clear in hearing up to the size of a small office. There are subtle hints of bass in it too and enough clarity for the treble to come through.
Connectivity Options

The Dell P3418HW has enough ports to ensure that you never run out of enough input and output ports. It will keep you connected always. All the ports present on the monitor have been listed below individually. There are a total of 12 slots:
2 x HDMI 1.4 (HDCP 1.4)
1 x DP 1.2 (HDCP 1.4)
1 x mDP (HDCP 1.4)
1 x USB 3.0 port – Upstream
2 x USB 3.0 ports – Side
2 x USB 3.0 ports – Bottom
1 x Audio Line Out
The monitor comes with a few cables such as the power cable, DisplayPort cable (Mini-DP to DP) and USB 3.0 upstream cable, in its packaging.
Final Verdict
The Dell P3418HW is an excellent buy for people who have regular office work related to word documents, spreadsheets, and web-browsing. Since the resolution offers an essential 1080p HD quality, you can watch videos on it and edit minor multimedia.
Although there are some minor setbacks such as the lack of HDR support and higher display, this monitor was never designed with that purpose in mind. You can always choose the UltraSharp U3415W if you require these features.
The Dell 34" Curved Monitor P3418HW offers value for money as it provides increased productivity due to lesser distractions and an immersive experience while getting your office work done.