Only a true gamer will understand the importance of a full setup device and responsive keyboards and mouse while playing a game. In the world of gaming, split seconds are all that matters to beat your opponent. This is why gamers need devices that are very responsive and can provide uninterrupted gaming sessions.
A gamer can never opt for standard keyboards. Those keyboards are fine for office work, not for intensive gaming. A gamer needs speed and precision that dedicated gaming keyboards bring with them. Also, backlighting is super important for a gamer. Low light conditions shouldn't hamper an ongoing game, right?
When a gamer is investing in keyboards, he wouldn't want keyboards that are low-quality craps, right? That is why we have come up with the list of the best gaming keyboards a gamer can get his hands on. Here they are.
List of Best Gaming Keyboards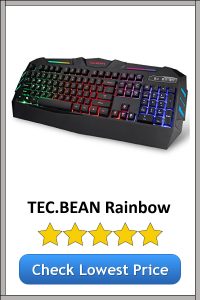 When it comes to gaming keyboards, very few can match up to this one. The TEC.BEAN Rainbow LED is nothing short of a masterpiece. Not only it is multi-functional, but it is also affordable for gamers who are on a tight budget. It is anti-skid, waterproof and multiprogramming.
Its backlighting offers rainbow-themed background light for low light conditions or darkness. The brightness can be turned on or off according to the gamer's convenience. It has 104  super responsive keys and 12 more multimedia keys which are shortcuts for controlling the game. This one does not require any drivers, unlike many other keyboards. It has a USB cable that can be used with Windows and MAC devices.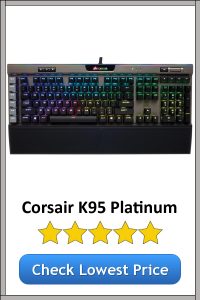 The Corsair K95 PLATINUM is everything that the K70 and K95 Vengeance is not. It has Cherry MX Speed Silver switches, that has reduced the time and distance from the keys. It is the ultimate gaming keyboard for the ones who are ready to splurge on keyboards. Its actuation distance is just 1.2mm and has the fastest Cherry switch ever.
The sleek aluminum cover comes in matte black or gunmetal color. It has the 104 key layout and six macro keys for the additional functions. That makes our gaming experience one of its kind. The best part about its 104 key layouts is that it is simple and clean to make your gaming experience uninterrupted. The Vengeance was heavier due to the presence of a lot o macro keys. This, however, has eliminated all the extra macro keys. That makes the K95 Platinum smaller in size and lighter and easier to handle.
It has an inbuilt memory of 8MB. That means if you frequently change keyboards, you won't have to build a new profile every time you plug in the K95 Platinum to a device. It has your preferences stored, making it easier for you.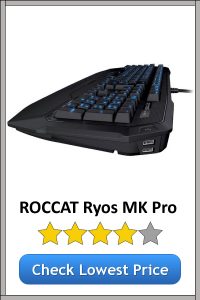 The ROCCAT Ryos MK Pro is the first mechanical keyboard from the brand and has been getting great reviews from everywhere. It has the evergreen four key switch mode that makes it convenient for a gamer. Whether you are a pro gamer or an amateur, this keyboard layout will come in handy and enhance the gaming experience. It also has built-in USB and audio connections.
The keyboard is a little bulky, that makes for a con in the otherwise great keyboard. Also, the backlight settings have just one color- blue. So it doesn't have much to offer in terms of background light color. The wrist rest is bulky too. And one of the worst things about this keyboard is that you cannot move your wrist while playing.
But that's not all. While the ROCCAT Ryos MK Pro has its own set of cons, the pros are too high. Plenty of macro key options makes it a favorite among gamers. Not just that, it has 8 micro keys. The keys move fast and provide an uninterrupted gaming experience. The mechanical switches are highly responsive too.
Even though the background light color is limited, the patterns that you can make are unlimited. In fact, the ROCCAT Ryos MK Pro is one of the best-illuminated keyboards. You can create any fancy pattern that you want and that would suit your needs. You also have the option of adding special lighting effects to each key. Isn't that cool? All these added features and no hindrance to the speed and performance of the keyboard. If that doesn't compel you to buy this keyboard, we don't know what will.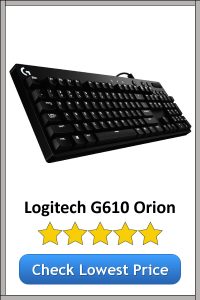 The highlight of this keyboard? The Cherry MX switches that provide the ultimate gaming experience to a gamer. The keys are surprisingly well built in the Logitech G610 Orion. The features are less as compared to their competitors. But that does not hinder the gaming sessions. If you are on a tight budget, you should not think twice before going for this one. This one does not have extensive features like USB ports or built-in audio. But it runs smoothly without interruptions.
The Logitech G610 Orion does not have much to offer in terms of design. If you expect some futuristic design, you might be disappointed. But it does have a few extra features that are strategically hidden from the eyes. The keyboard has a nice backlight too. You cannot change the preset colors, but you can have fun with the patterns. The keyboard does not have any wrist rest, and that is a major drawback. But it has three different height adjustments. While that may not make up for the lack of a wrist rest, it is a pretty good feature.
But not just lighting and height adjustments, the G610 Orion performs some great functions too. You can use the Logitech G software to set the F key with different macros as per your game requirements. What's more, is you can also disable certain keys while in the middle of a game to make your gaming experience better. The pro of this keyboard is the easy user interface. This keyboard is a boon to both amateurs and pro gamers.
The best part, though, is the keys. Logitech designed its own version of Cherry MX keys, called the Romer-G key. They are as high-end as any Cherry MX keys. The backlighting option has been mentioned earlier as well, so it needs no introduction. These keys are quieter, so that reduces the noise when you are furiously pressing the keys in the game. The two varieties of the G610 Orion use two different colored Cherry MX switches. The G610 Orion Brown uses Cherry MX Brown key switches, and the G610 Orion Red uses Cherry MX Red. Even though both the keyboards are almost similar, what sets them apart is the actuation.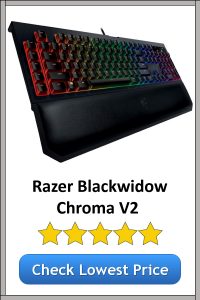 Razer uses their own custom-built switches in their keyboards. They have their variants in green, yellow and orange switches. They are quite similar to the Cherry M breed of switches. Coming to the great thing about Razer Blackwidow Chroma V2, the keys are super responsive. That's the major thing a gamer needs. When a keyboard becomes less responsive, it interrupts the gaming sessions and that is super annoying. The Blackwidow Chroma V2 is pretty quiet too. So you don't feel like you are beating a typewriter while playing.
The Blackwidow Chroma does not have separate media keys and that is a major drawback. They are integrated with the other function keys. But the wrist rest makes up for it. It has one of the best wrists rests among its contemporaries and looks super sleek as well.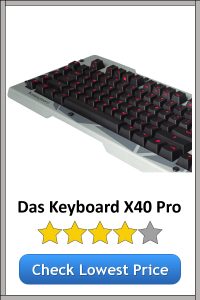 This list wouldn't have been complete without the mention of the Das Keyboard X40 Pro. A decade ago when the first Das keyboard was released, it was a threat to every other gaming keyboard in the market. And not much has changed even today. The Das Keyboard X40 Pro is everything you need. It is simple, minimalistic, sleek and comes equipped with five macro keys.
The backlighting with laser edged keys is definitely a plus point. There are three other lights too that make this keyboard a masterpiece at low light gaming. With three USB ports and audio jacks, this will give you the feel of a full-fledged setup. The keyboard comes packed in a sleek aluminum cover with intricate designs of geometric shapes. But you can use or remove these at your own convenience. The two varieties of the Das Keyboard X40 Pro are the Stryker and the Defamer.
The keyboard comes with its own software. But installing it is not necessary and that is the best part of it. Even without installing the software, the keyboard performs as good. But installing the software will obviously give a few added features. You can build up to five different gaming profiles using the software. It also makes it easier for the gamer to function the macro keys with the help of the software. The software is easy and user-friendly as Das believes in minimalism.
The Das Keyboard X40 Pro's performance is mind-blowing. There is no doubt regarding that. Even with weeks of intense gaming, the keyboard still does great. It is responsive and smoothly without interruptions. It is, however, not ideal for typing. If you are typing for long periods of time at a stretch, the Das Keyboard X40 Pro is not really an ideal choice for that purpose. But otherwise, it has no substitute when it comes to performance. If you are a pro gamer, buy it without thinking twice.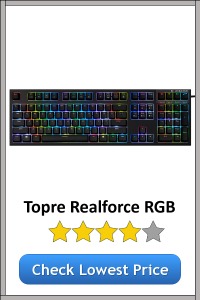 This keyboard is multitalented from the word go. The Topre key switches are a great alternative to the more expensive Cherry MX switches. But the great part about this keyboard is that it is great for typing as well, unlike most gaming keyboards. The super tactile Topre switches provide a great backdrop for typing and playing as well. One of the main features of this multi-talented keyboard is that it has PBT keycaps of high quality. That ensures superior delivery of whatever task you are performing with the keyboard, without much lagging.
The highlights of the Topre Realforce RGB are many. Apart from its switches, its RGB backlighting is worth mentioning. It is beautiful, to say the least. It has variable actuation points, making it easier for a hardcore gamer. it boasts of both Cherry MX and Topre keycap stems, giving it an out of the edge feel. However, this keyboard has got its own shortcomings. It does not have any wrist rest. This setback itself pisses off a lot of hardcore gamers. it also does not include any keycap pullers. However, overlooking these two setbacks, this keyboard is worth every penny that you invest.
How to Buy Gaming Keyboard – Buyer's Guide
What really sets the gaming keyboards apart?
When you are looking at a gaming keyboard, they are distinctively two kinds. The ones with mechanical switches, and the ones with a rubber dome switches.
Mechanical switches
A mechanical switch will have levers, springs and more robust construction. These are the ones that became popular in the 1980s and 1990s. They are big, very durable and quite hard. Although the design has changed over the years to make it more portable and convenient, it still retains its original properties.
With the invention of laptops, mechanical keyboards saw a makeover. Now they are available in more varieties than ever. They are pricey, but gamers do not mind paying the price for their high responsiveness. Mechanical keyboards are basically used either for gaming or for productivity. Most mechanical keyboards use the Cherry MX switches. The Cherry MX switches come in a variety of colors, the most common ones being red, blue, black and brown. Each of these colors has its own features. But the Cherry MX Red is the one that is most used by gamers. A lot of brands manufacturing mechanical keyboards also use non Cherry keys, but that is not necessarily a bad thing.
The mechanical keyboards have a main feature in common, that is the backlighting. The colors vary in every keyboard and so do the patterns. The user can build lighting patterns according to his wish. The backlighting is what adds to the price of mechanical keyboards. The complex multicolor hues will cost more than the simple single-colored keyboards. The even more pricey keyboards will let gamers design different color zones for different games and keys.
Most mechanical keyboards are wired and use wired USB ports while some are wireless. They also have headphone and microphone jacks on the sides. There are dedicated shortcut keys in every kind of keyboard. But the mechanical keyboards have a number of shortcut keys to make the gaming experience easier. Also, a lot of mechanical gaming keyboards come with their own software. Users install this software and build gaming profiles according to their own convenience.
Rubber dome keyboards
The rubber dome technology is used in the cheaper quality keyboards. In these, the keys are made of silicone bubbles or rubber or some springy material. That makes the keys bounce back and that is not a very pleasant gaming experience. However, a lot of gamers opt for these keyboards as they are way more cheap than mechanical keyboards. But the rubber dome gaming keyboards are not always inferior than the mechanical ones. They are less durable than mechanical gaming keyboards though.