ASUS ROG Swift PG348Q Review
Summary
If G-Sync is a major priority for you then ROG Swift PG348Q is the best one for you. It delivers a great and vibrant display. Image quality is great. It is highly versatile and comes with many ports which provide great connectivity options. But then also there are many other monitors like Samsung S34E790C or Acer XB321HK
Refresh Rate

Resolution

Brightness

Connectivity

Power Consumption
Pros
Nvidia G-Sync
Wide Aspect Ratio
Great Performance & Quality
Display Port
2K Resolution
Cons
Expensive
First Time Setup is Not Easy
Today is the day of advancing technology and modern equipment and everyone wants to get the best product for their day to day usage. But have you ever wondered about how you can get the best monitor for your setup? I'm damn sure you probably would have.
As you know very well that the market is flooded with a lot of monitors so you need to get every bit of detail about the product you will purchase. So here we have got an in-depth review of one of those items, i.e. ASUS ROG Swift PG348Q Monitor with pros and cons. Let us have a look at its features and discuss everything in detail.
ASUS ROG Swift PG348Q Review
The Asus ROG Swift PG348Q is a gaming monitor or gaming display built for an unparalleled experience of visuals and in the professional gaming platform. It comes with a massive 4K/ ultra-high definition resolution 3440 x 1440 along with massive IPS technology.
Integration of NVIDIA G-SYNC technology softens the gaming experience by synchronizing the refresh rate to the GPU to deliver lag-free gameplay. It features the latest and probably the best technologies as well as a unique design capable of attracting gamers across the globe.
I don't think that this is enough for you to get every bit of detail on the monitor. So here we have got the specs, design, setup process and almost everything about this monitor so that you can get the possible knowledge of this monitor before you get one for yourself because we understand very well how important is money for you. So read everything carefully and share your thoughts with us in the comments below.
Specifications
Screen Size
34 Inches
Resolution
3440 x 1440 (Quad-HD)
Aspect Ratio
21:9
Response Time
5ms
Refresh Rate
Up to 100Hz (Display Port)
Display Type
LCD
Panel Type
IPS
Contrast Ratio
1000:1
Brightness
300 nits
Viewing Angles
178 degrees
Screen Coating
Non-Glare
Adaptive-Sync Technology
NVIDIA G-Sync
Speakers
2W x 2 Stereo RMS
Display Adjustments
Height, Pitch, Swivel, VESA
Connectivity
1 x HDMI
1 x Display Port
1 x USB 3.0
1 x 3.5mm Headphone Jack
Wall Mount
VESA (100mm)
Power Consumption
Less than 100W
Dimensions
32.63" x 21.96" x 11.69" (With Stand)
32.63" x 12.71" x 4.29" (Without Stand)
Weight
11.2 kg
Warranty
3 Years
Design & Features
The gaming monster has a wider screen which will benefit the gamers by giving a wider and richer gaming view. In the given aspect ratio in racing games (like the Need for Speed, Gran Turismo 4) as well as first person shooter games (like Prometheus 4) you get a better peripheral vision. And don't forget a 34-inch directly results in better performance and experience in strategy games and MOBAs are more accommodating. It has a pixel density of 110 PPI to give you a high level of visual experience in every field i.e. whether you are playing a game, watching a movie, or doing any work in it.
The colors displayed are sharper and brighter which enrich the display and make it more vibrant as well as detailed. It is perfect for multi-display setups as it has ultra-narrow bezel design (6mm) and can be VESA wall-mounted. Definitely it is costlier than other monitors and this is because the Republican of Gamers is packed with a greater number of features.
It also comes with an NVIDIA G-Sync. This technology syncs the GPU frame rate along with the refresh rate of the monitor. Thereby avoiding negative aspects like stuttering and tearing and input lagging hence, facilitating flawless functioning. It can run at a high speed of 100Hz which is indeed great.
Note: – NVIDIA G-Sync requires NVIDIA GeForce GTX 980 GPU or higher GPU processor. IPS Technology Further the Asus comes with the ultimate IPS technology for consistent and true tone color accuracy. The company guarantees 98.6% Red, Blue, and Green (RGB) color gamut as well as 1000 contrast ratio. The 10-bit screen is capable of displaying 1.07 billion rendered colors. Speakers and Connectivity It comes with a pair of 2-watt speakers which are pretty good. The ROG has a number of connectivity options which are: Display 1.2 ports and HDMI 1.3 ports along with three USB 3.0 ports.
The cable management feature present at the back of the monitor allows you to hide cables and keep your playing area neat and tidy.
GameVisual Video Intelligence Technology (ASUS Exclusive)
This technology has six inbuilt pre-set display modes in order to optimize visuals in accordance with the needs, requirements, and convenience of gamers. This feature can be easily accessed via hotkey or OSD (On the Screen) display menu.
It provides various benefits in different areas. Some of them are given below: While playing racing games one can experience enhanced color saturation and sharper contrasts. High color and contrast enable to watch your enemies in the dark. The FPS provides more contrast graduations as well as brightness making it best for viewing photos and videos which depict scenery.   It is suitable for real-time strategy (RTS) and RGP games.
Screen Quality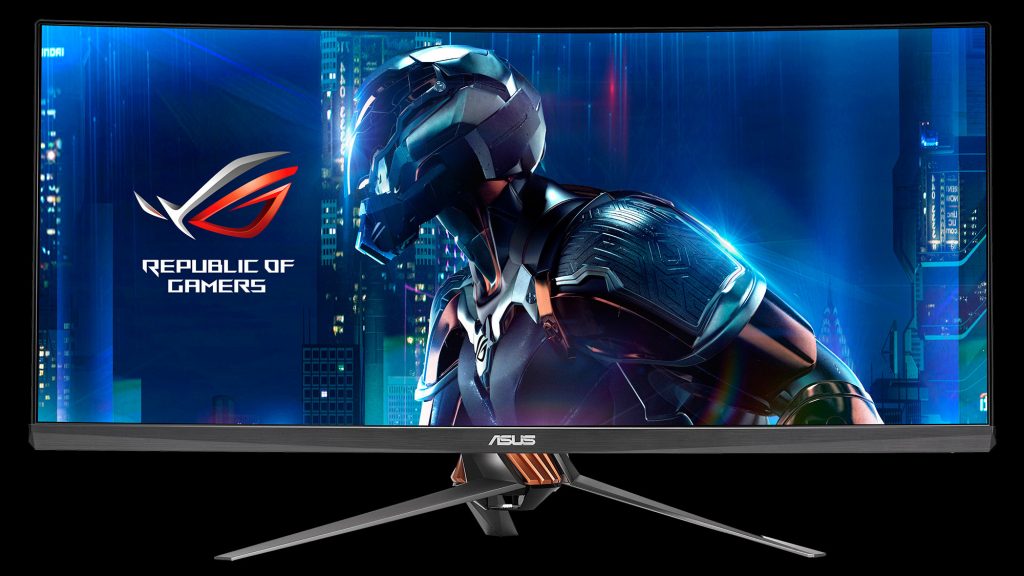 There is no doubt that ASUS delivers a superior visual experience. Its 300 cd/m2 brightness level is greatest and the black level of 0.27 is good enough.  Plus the contrast ratio of 1000:1 ensures a more vivid display. Its average Delta E of 1.74 is however below the crucial 2.0 barrier.
The color temperature ideal for the screen is 6500 k and ROGs proved out to be close enough as it showed a color temperature of around 6,366 k. Also, the average gamma result was very close to 2.2 which is the benchmark.
When the brightness was reduced to 192 Nits the screen's average Delta E improved to a marvelous extent that is 0.58 but then also the black level still remained stagnated at 0.18 nits. At the same time, ASUS delivered a better set of results after following calibration which required turning the green notches and increasing the brightness (increasing it from 80 (default) to 85). After making these changes the screen delivered the Delta E of 0.85 however its other characteristics remained the same. We can conclude that ASUS is really good in almost every aspect of the display.
Screen Modes Information regarding screen modes is discussed above in brief. Now let's discuss them again in a little detail.
Screen Modes
Most of the screen modes changes as per games and user. The default mode is racing mode it is set up in order to reduce the input lag. The RPG or RTS mode increases the color saturation as well as contrast. FPS level provides higher contrast levels. And a Scenery option facilitates green and blue hues.
In spite of the company's claims for great performance, the overall performance was not at all satisfactory. This can be proved from the following points: Despite big claims, the RTS and RPG made little difference. It dropped the Delta E level. Moreover Delta E level became worse when FPS was turned on. Scenery mode was not at all attractive. As both the Delta E and color temperature values declined. The warm color option remained at 6,592k which is decent as it deteriorated the color contrast as well as Delta E. After this the cool mode saw color temperature got reduced to a chilly of 9,600K which is great in terms of value but literally is of no practical use.
Uniformity and Input Lag Usually large screen panels deliver poor performance in terms of uniformity. However, ASUS's uniformity quite surprised me. This is because
The screen lost 10% and 12% of brightness in its top-left corner and top right corner respectively which is indeed impressive.
From the corners of the bottom, the ASUS lost its backlight at a magnitude of 7% and 8%. Besides maintaining the brightness level of top and bottom it also maintained its brightness level towards the center of the screen.
The middle part never lost more than 8% brightness. Another fact was that while delivering great visuals the ASUS maintained its color temperature.
If one is playing the game in a dark static room he/she can notice a minute dark bleed from the top right and bottom left corners. However, they won't disrupt the gaming experience neither they will deteriorate the uniformity.
From the above discussion, it is clear that PG348Q is a proper gaming screen. And average input lag one expects is around 20ms. However, the results surprised me as the input lag was just 13.2ms that is absolutely wonderful.
How to Setup ASUS ROG Swift PG348Q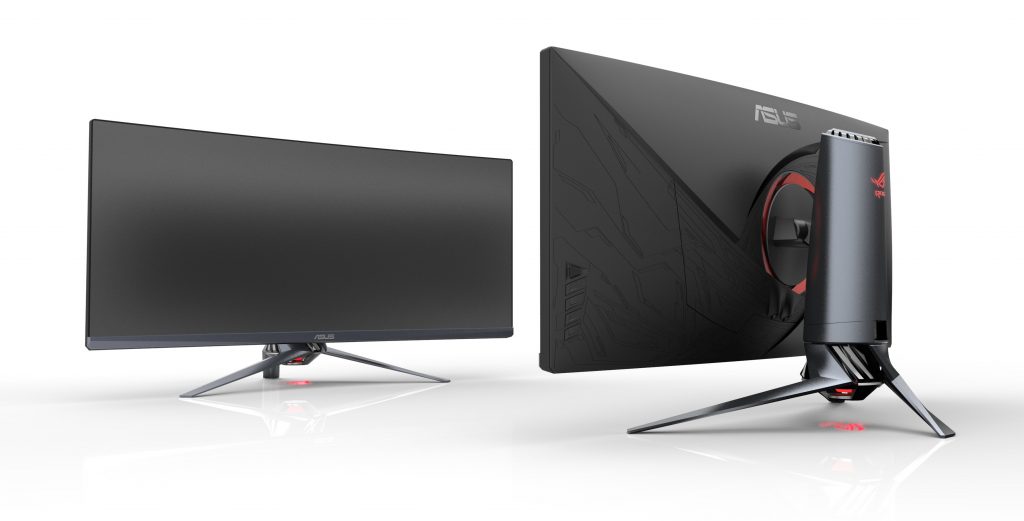 The new ASUS weighs around 11.2kg. This weight is definitely more than other gaming monitors available in the market but one should not forget that this size in aspects of height and weight is not at all available. Obviously, it is not easy to set up a monitor with this much weight. Steps for setting up this massive gaming machine are written below:
Legs of the stand need to be fitted into the stand using a couple of screws.
After tying screws you are required to fit the plastic panels.
Now, clamp the stand at the rear of the screen.
Lastly, attach a second plastic panel in order to cover up the ports and connectors.
Once the screen is set up you can observe a high degree of versatility. Like you can adjust the height up to 115 mm also the screen can be tilted up to 25 degrees also the screen can swivel from side to side.
At first accessing, the ports may prove to be a bit difficult. There are a few reasons behind this. Let us discuss it first:
First, they all face downwards.
Secondly, they all are covered up with a plastic shroud.
Should you Buy the Asus Rog Swift PG348Q or not?
I am still surprised to see such a wide variety of features on a gaming screen. It has a high resolution which is an inevitable part for better and vivid submergence in virtual realms. Besides high resolution huge diagonal and curved screen ensure that games are more interesting when compared to other 4K tall screens. One more hardware advantage is that it requires less graphical grunts.
Other features include speakers that are pretty good and immersive. Numerous ports are available which increases the value. Also, ASUS is versatile with various setting options.
Yes, the screen is heavy and bulky and yes a bit awkward to set up but that's not a problem, right? At least not for me.
The Final Verdict
Now there is no standard for measuring the best as the definition of best differs from person to person. If G-Sync is a major priority for you then ROG Swift PG348Q is the best one for you. It delivers a great and vibrant display. Image quality is great. It is highly versatile and comes with many ports that provide great connectivity options. But then also there are many other monitors like Samsung S34E790C or Acer XB321HK
Another impressive element about ASUS PG348Q is its color temperature management. One should not forget about the high price. At last, we conclude that if you want an overall superior virtual experience at the same time if you are ready to pay then definitely ASUS PG348Q is suitable for you.
Although we have covered all the major elements and features of Asus Rog Swift PG348Q Monitor in this in-depth review with pros and cons still it's all up to your choice and needs. If you found this one the perfect choice for the purpose then you can go for it otherwise have a look at some other products in our articles. Do let us know your thoughts about this monitor in the comment section below and share your experience if you are going to get one.