Are you a gaming enthusiast and looking for the perfect G-Sync monitor for your NVIDIA gaming rig? You are at the right place!
G-Sync is an amazing evolution in the present Monitor technology and can bring out the best of your NVIDIA graphics card by eliminating major issues such as screen tearing, stuttering, input lag, etc. G-Sync display synchronizes the refresh rate of the monitor with the graphics card and provides you superior gaming experience with silky smooth gameplay.
There are multiple things to consider while buying a G-Sync monitor, but your primary focus should always be on the type. You can get 3 different types of G-Sync Monitors in the market: G-Sync Compatible, Standard G-Sync, and G-Sync Ultimate.
The G-Sync compatible monitors are originally equipped with FreeSync technology but meet the strict standards for VRR-enhancement provided by NVIDIA and are very much affordable. Standard G-Sync Monitors as the name suggests are the original ones with G-Sync features and a little bit costly than the compatible monitors. G-Sync ultimate monitors are the priciest ones but are preferred by a lot of professional gamers for their insanely low latency and unbelievable cinematic quality visuals.
We have handpicked the top 10 cheap G-Sync Monitors with different resolutions, sizes, and other features. You can also find the pros and cons of each monitor in the list to help you make a crystal-clear decision and pick the best one.
List of Best Cheap G-Sync Monitors
1. Asus ROG Swift PG248Q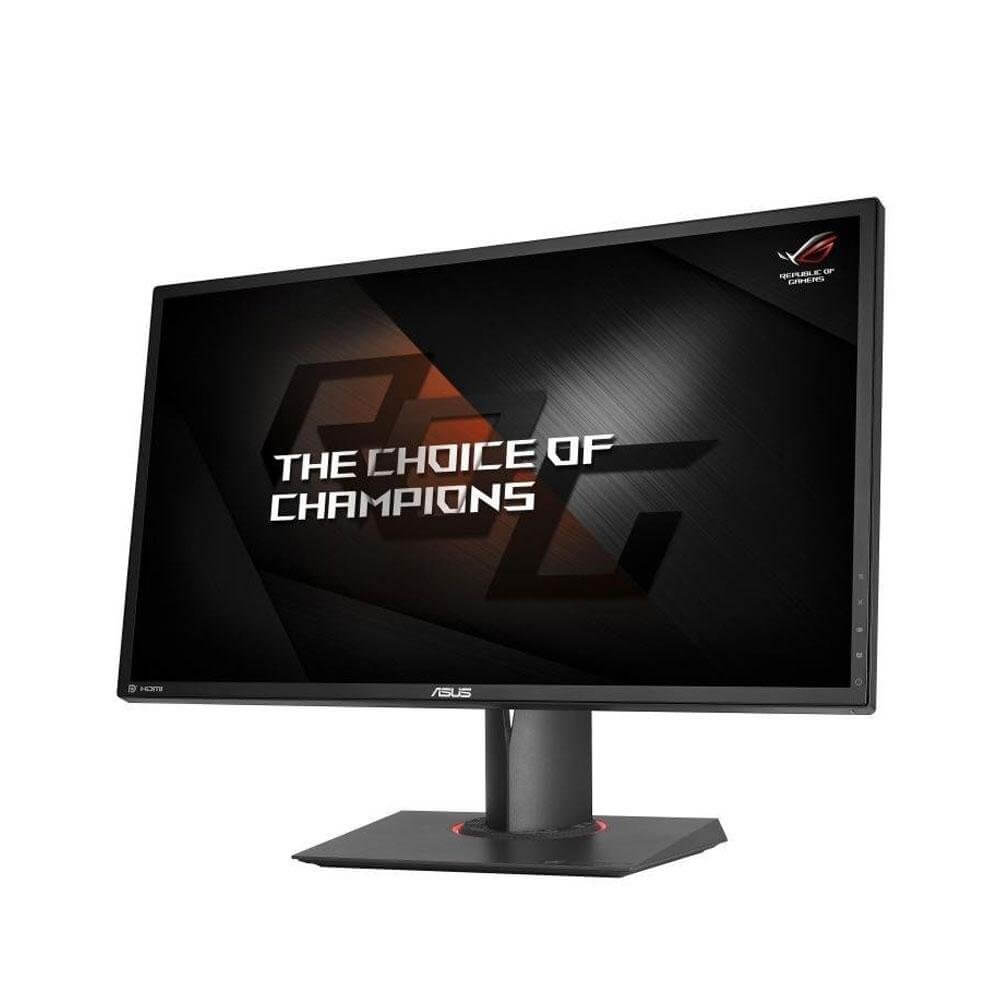 The first one we have on our list is the Asus ROG Swift PG248Q monitor that is great for competitive gaming. It has a speedy 180Hz refresh rate within a crisp 1080p resolution that delivers quick response time and minimized flicker. It has a great robust design that is tilt, rotate, and swivel friendly. Our favorite part is the red LED light surrounding the base of the monitor which adds to its classy appearance.
Being a feature-packed gaming monitor, it has proved its worth in every direction from its ergonomics to motion quality. You will be amazed to see the accuracy of color with calibration provided by this monitor that makes the display perfect for fast-paced gaming.
The On-screen display of this monitor is praiseworthy with easy-to-read text and a lot of options. Connectivity options include HDMI port, USB ports, and a headphone jack. It is disappointing to see that there is no port to connect speakers as it is a comparatively pricey monitor in the list with a 1080p resolution.
Pros
A pleasing combination of form and function
A perfect trio of Nvidia-specific features; G-SYNC, ULMB and 3D Vision
Cons
Fewer connectivity options
High price
2. AOC G2590FX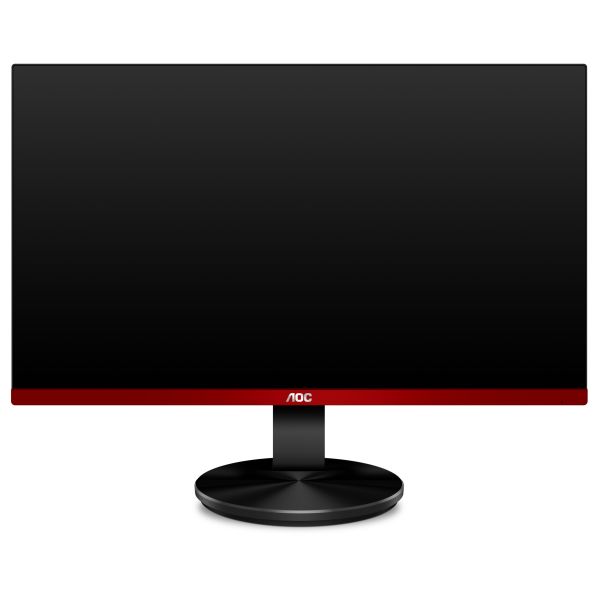 The AOC G2590PX monitor boasts a 24.5" 144Hz TN panel from AUO. It has an aesthetic design and a noticeable sleeker body than other monitors of the same group. The rotating monitor base and slim bezel stand add to its beauty. Additionally, tilt, swivel, and height adjustment are available, plus the ability to pivot into portrait mode.
It is a FreeSync monitor equipped with G-Sync compatibility. It uses a 1,920 x 1,080 resolution, 1ms response time, and 144hz refresh rate that keep the monitor away from tearing and shuttering. The G-Sync helps in the synchronization of the GPU's and Monitor's refresh rate to decrease the blur and provide a livelier gaming experience.
Coming to the connectivity options, you will get 4 high-speed USB ports, headphone extension, audio ports, VGA display port, and few HDMI Ports. This monitor gives tough competition to other Monitors in terms of price, but it lacks in few other portions such as color accuracy. The low 472:1 contrast ratio is disappointing and makes the dark screen look grey but if you're looking for the cheapest options, this can be your pick!
Pros
Enhanced TN panel with 1080p resolution
G-Sync Compatible
Quite affordable
Cons
Not as responsive as rivals
Color accuracy is not on point
3. Dell S2417DG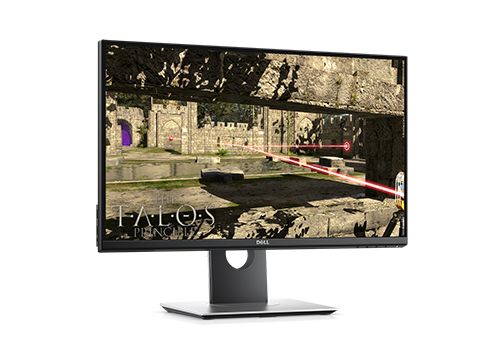 If you're looking for a monitor that can work great for all different uses such as media creation, gaming, or even regular office use, this monitor should be your first choice. It has the typical 'Dell' monitor design with a flat rectangular base and slim body. You can easily adjust the screen according to your preferences with its staggering tilt, swivel, and rotate angles.  
It comes with an excellent frame by frame performance assisted by 1ms response time and 165hz refresh rate to guarantee flicker-free gaming experience. It also has an excellent low input lag in native 1440p resolution which makes it a great choice for most users. Other than this, it is packed with multiple gaming features such as VRR support through the G-SYNC technology which makes it a good option for gamers.
On the left side and the back of the display, you can find a total of 4 USB ports, 1 HDMI port, and 1 Headphone jack. Sadly, you cannot connect it to the speaker. The contrast of this monitor is a bit disappointing, but it is acceptable as there is nothing else you can complain about.
Pros
Preset gaming modes
Fast Response Time
Cons
Blacks uniformity is not perfect
Occasional pixel aversion
4. Asus TUF Gaming VG27AQ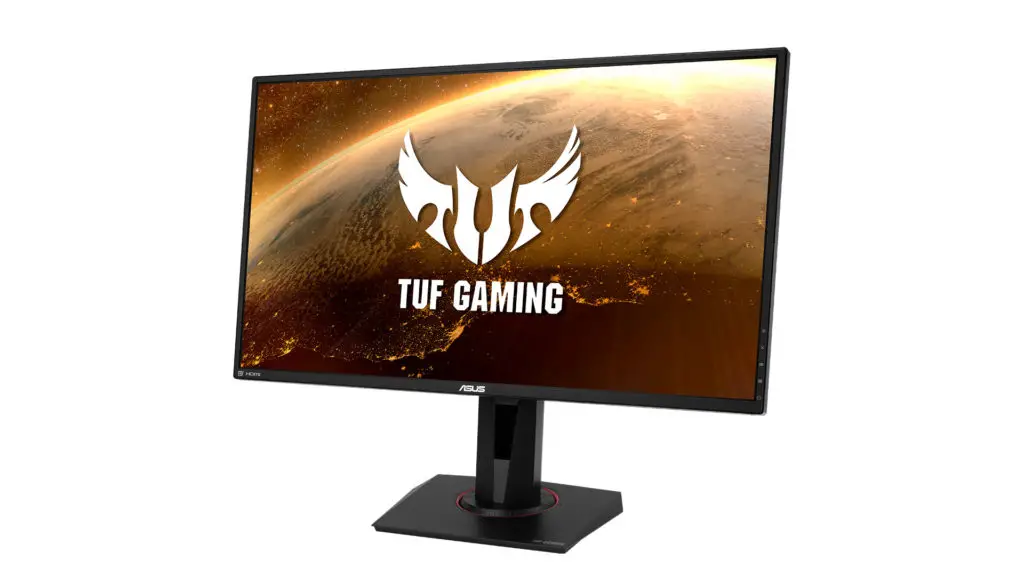 Asus has delivered some of the best laptops and monitors in the market but this was one of the first monitors that have gained the TUF branding. This 27in monitor boasts an IPS panel with 1440p resolution and Nvidia G-Sync. It has a solid build and great ergonomics making it easy to position in whatever way you want.
Thanks to its peak 165Hz refresh rate and improved motion blur technology, it has established a good name in the market as an excellent G-Sync gaming monitor. The flicker-free back-light helps in reducing eye strain during long gaming hours. Another great feature of this monitor is that the input lag remains low even at 60Hz, which is important for console gamers.
This Asus monitor is also equipped with their latest technology that is called Asus Extreme Low Motion Blur Sync (ELMB SYNC) that provides gamers the experience of sharp and high-speed frames. For connectivity, only HDMI port, DisplayPort, and a headphone jack are present, no USB ports.
Pros
Great color quality
Motion control features
ELMB Sync
Cons
No RGB LEDs, USB ports or remote controls
5. Acer XFA240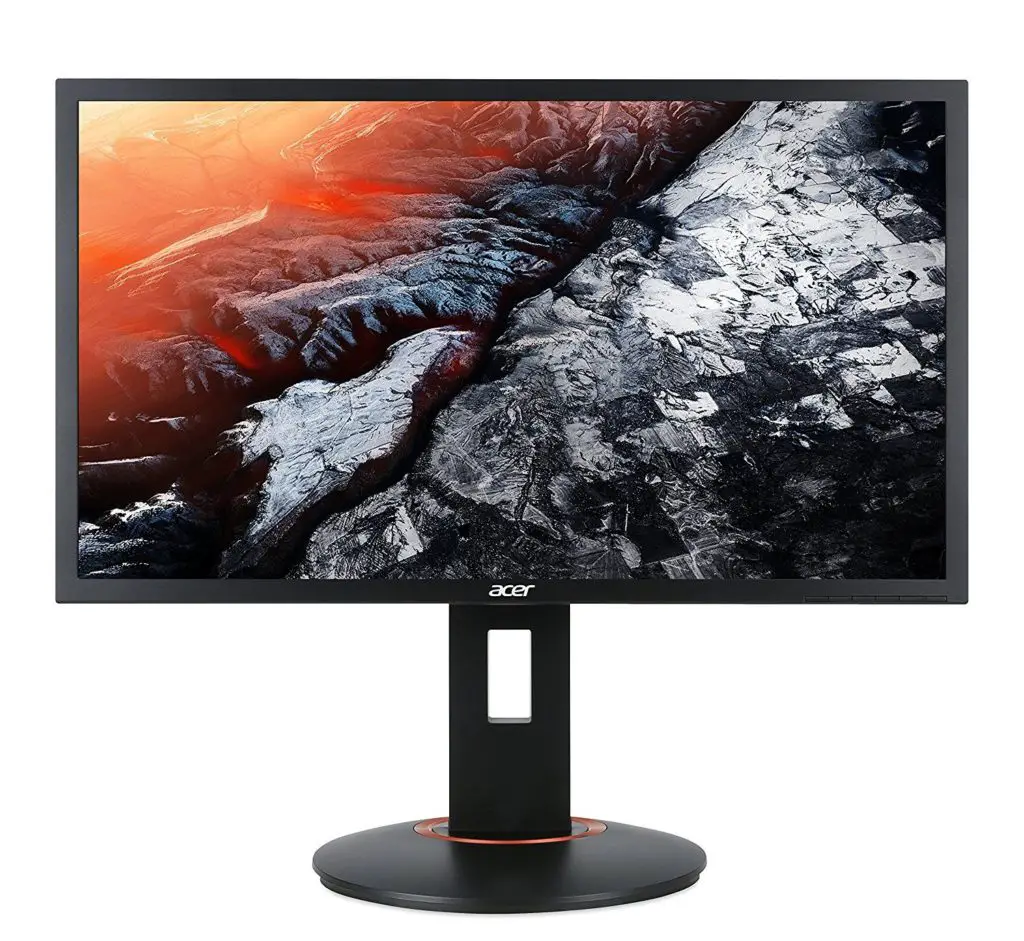 Another impressive monitor under a bargain price, Acer's XFA240 has both important specs that a professional gamer looks for: smooth 144Hz refresh rate and 1ms response time. Featuring both AMD's FreeSync and NVIDIA's G-Sync with VRR technology, the display produces a rich picture profile with reduced screen-tear and stuttering.
It has a TN panel that is not very great for color quality if compared to VA or IPS panel but its quick response time changes the pixels from one color into another almost in less than a blink which, in turn, minimizes motion blur and ghosting in fast-paced games. It has a flicker-free backlight as it does not use pulse width modulation to control brightness and the low-blue light filter protects you from eye strain and headaches.
Connectivity options include HDMI 1.4 with MHL, DisplayPort 1.2, and Dual-Link DVI-D. There are also two 2W built-in speakers and a headphones jack. It comes at a very pocket-friendly rate and has almost all the important features that a professional gamer wants in the monitor.
Pros
Amazing color accuracy
Great ergonomics
Plenty of picture control options
Cons
Doesn't allow the use of G-sync over HDMI port
Inferior image quality compared to other monitors
6. Viotek GFT27DB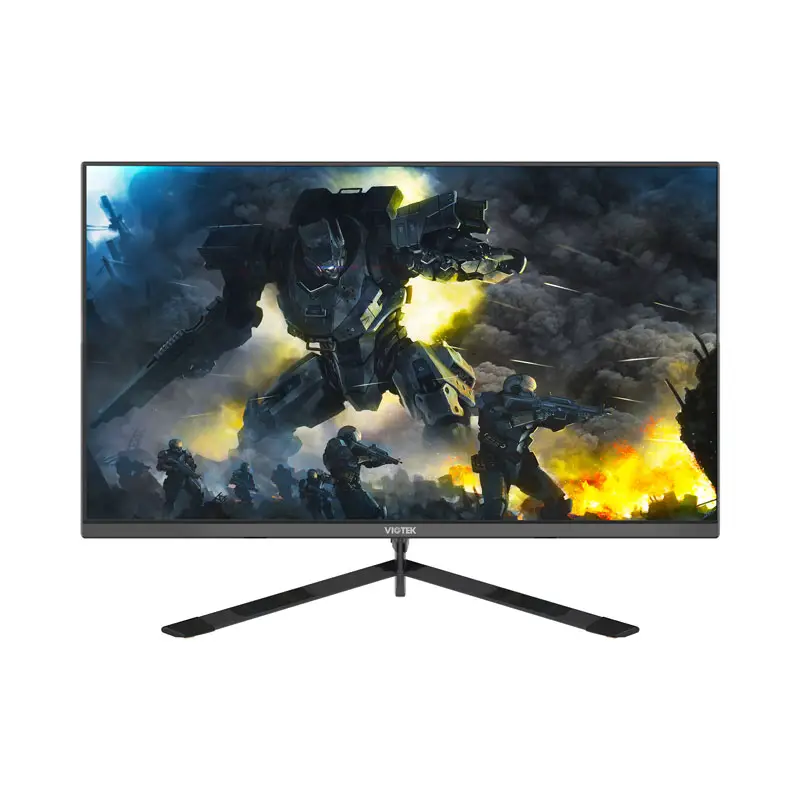 This 27-inch monitor features a 1440p resolution, 144Hz refresh rate, and a 1ms response time to reduce lag or slowing down in fast-paced games. The Viotek GFT27DB has a nice and clean matte black finish and a bezel-free dual-stage design that can grab anyone's attention. Though it has a tiny limitation and requires a VESA adapter for same, it can be easily adjusted in other ways.
This monitor features a TN panel with FreeSync technology and is stamped with Nvidia's seal of approval for G-Sync compatibility for buttery smooth and screen-tear free gameplay experience. Pixel response time offered by this monitor is great that means you'll experience a high motion picture quality and an unbelievable level of color accuracy.
The connectivity panel can be found at the back of the monitor and it includes three HDMI ports with two at version 1.4 and the third one at 2.0 and a DisplayPort 1.2. Headphone jack and USB ports are missing but the inbuilt 2-watt speakers are enough for effective sound quality.
Pros
Affordable price
Detailed and sharp pixels
Amazing picture quality
Cons
Color output can only be optimized with a colorimeter
7. Acer Predator XB241H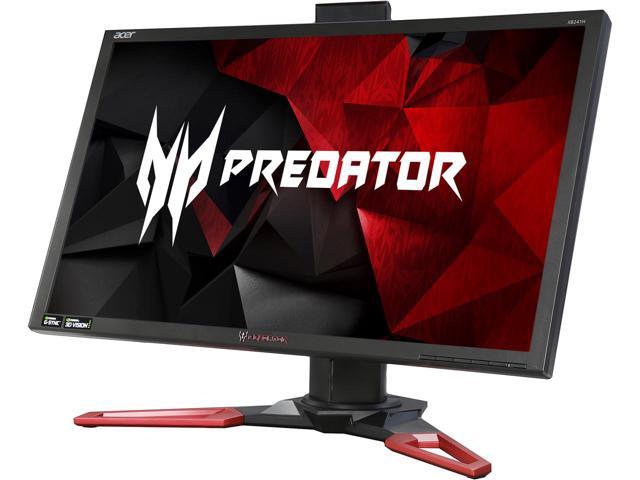 If you're particularly looking for a TN panel with high-quality performance, this Acer monitor will serve you right. Although it is a bit pricey as compared to other 144hz TN Monitors but it's worth the money as it can be extended up to 180Hz. It has a 1ms response time and sharp display with 1920×1080 resolution.
It has a robust and sleek make with is highly adjustable and the G-Sync ultimate technology will bring you a tear-free and stutter-free gameplay all the way up to 180Hz/FPS. Coming to an important gaming feature 'Ultra Low Motion Blur (ULMB)' which reduces the perceived motion blur and ghosting in fast-paced games.
It features an HDMI 1.4 port, a DisplayPort 1.2, and a 3.5mm Audio Out with built-in speakers. The only shortcoming that can be noted in this monitor is that there is no USB port which was kind of expected in a pricey monitor. The color quality will seem unappealing at first but with some calibration changes, you can get the desired color output.
Pros
Great visuals for a TN panel
Overclockable up to 180hz refresh rate
Multiple gaming features such as ULMB
Cons
Little pricey as compared to other monitors
Limited viewing angles
8. Dell S2719DGF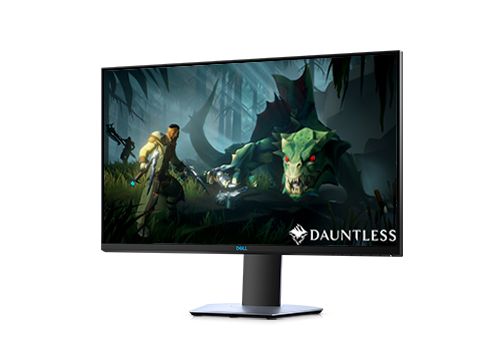 This Dell monitor has a plain yet classy built that can complement the beauty of your Office or gaming zone. The ergonomics are great, and it can be positioned in multiple ways to suit your requirement. With its outstanding response time and refresh rate of 144Hz (can be overclocked to 155Hz), it is mistaken for having an IPS panel but, it is equipped with TN panel paired with G-Sync and QHD resolution.
You'll experience sharp, tear-free graphics with blazing fast and responsive gameplay and minimum input lag, all thanks to G-Sync compatibility. There's nothing that can go wrong with this monitor as it has a renowned brand name. You might face some color-related issues, but they can easily be fixed by making a few changes.
It has a Dark Stabilizer feature that brings out dark details in the game, especially useful in FPS games. Connectivity panel consists of 4 USB ports, two HDMI ports, and a headphone jack.
Pros
Amazing build quality
Strong pixel responsiveness
Decent static contrast
Cons
Weak color consistency and viewing angles
No effective gamma adjustment
9. LG 27GL650F-B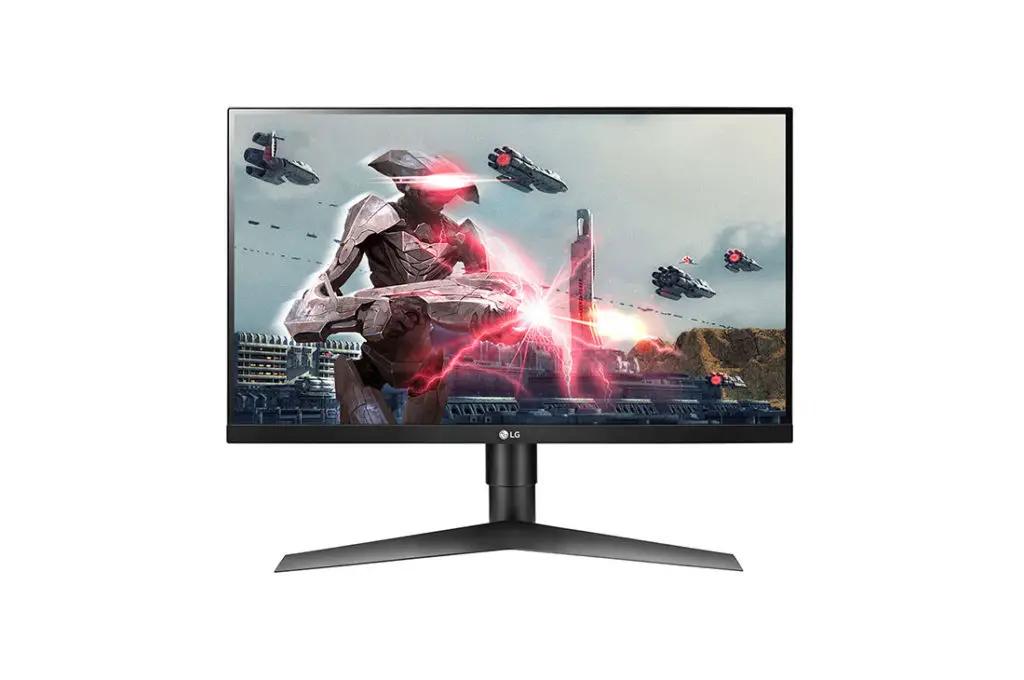 Another amazing NVIDIA tested G-Sync compatible monitor with a more vibrant IPS panel that eliminates screen tearing and minimizes stutter for a smoother, faster gaming experience. The display also has an outstanding color accuracy and wider viewing angles to enjoy seamless, fluid movement in hi-resolution and fast-paced games.
It has a decent and sophisticated body, but ergonomics is not that good. It can be rotated to portrait orientation, but only on one side. Perfectly clearer, smoother, and faster 27″ display is supported by IPS panel with a 1920 x 1080 resolution, 144Hz refresh rate, and 5ms native response time.
It has comparatively better contrast as of the other monitors in this list that is pretty much noticeable in dark scenes in a dark room. For connectivity, it includes two HDMI ports, one DisplayPort, and a headphone jack.
Pros
Impressive Pre-Calibrated Image Quality
Fluid gaming motion
Excellent response time for an IPS monitor
Cons
Bad black uniformity
Higher price
10. Acer Predator XB271HU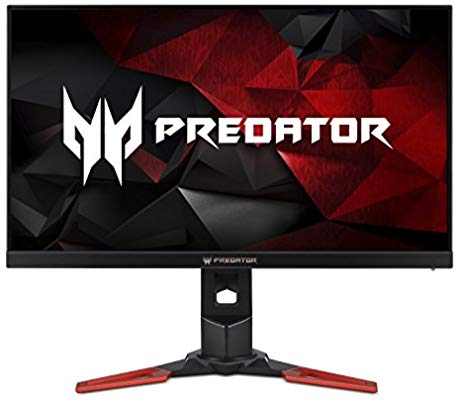 The last one here we have is another Acer Predator monitor with a speedy 144Hz refresh rate and 4-millisecond (gray-to-gray) pixel response and excellent low input lag provide a great gaming experience. NVIDIA's G-Sync technology makes it even better by reducing flicker, stutter, and screen tearing.
It has a pleasing shiny black body with a red V-Shaped base and impressive ergonomics to adjust the monitor to different viewing angles in just seconds. Low contrast ratio and poor black uniformity act as a big drawback but they are manageable with few calibration settings.
Similar to its sibling Acer Predator XB241H, it also uses the ULMB technology to reduce motion blur and maintain picture quality.
Pros
Great image quality after calibration
ULMB Technology
Outstanding Ergonomics
Cons
Requires calibration to set the image quality
Slower response time than similar monitors
Addition of a G-Sync monitor in your NVIDIA gaming rig might seem an unwanted expense especially when you're doing fine with your present display but believe us, you will notice the change yourself during the fast-paced games without the stuttering, juddering and screen tearing.
If you've any more queries, do let us know in the comments section below.