ASUS ROG Swift PG258Q Review
Summary
You would just love the 240Hz refresh rate and the G-Sync technology of this monitor. But then the price might stop you from buying this price for a 25-inch monitor that too with a 1080p screen is not a great deal. But in case you still want to get on then surely go ahead, it's great.
Refresh Rate

Resolution

Brightness

Connectivity

Power Consumption
Pros
Gaming Performance
240Hz Refresh Rate
Nvidia G-Sync
Cons
Little Expensive
Only 1080P Resolution
No Speakers
Are you making a gaming rig and looking for the best monitor that fits your budget. But when I say budget doesn't mean this monitor is cheap as you are making a gaming rig you sure will have to lose a few bucks. But I must say you will not regret it at all after getting ASUS ROG Swift PG258Q as it will be a perfect match for your rig and hence your hard-earned money will be consumed in a perfect device unless you are looking for 4k gaming as this monitor is 1080p.
Well, I personally tried a lot of gaming monitors and this one game in one of my favorite gaming monitor's list as it is a well-built 240Hz gaming monitor. Though this monitor is tagged under gaming monitors but still if you are a content creator you can use this monitor too as it has pretty decent features and when it comes to performance you can sure get the best performance you can expect in this range.
ASUS ROG Swift PG258Q Review
Specifications
Screen Size
24.5 Inches
Resolution
1920 x 1080 (Full-HD)
Aspect Ratio
16:9
Response Time
1ms
Refresh Rate
240Hz
Display Type
LED
Panel Type
TN
Contrast Ratio
1000:1
Brightness
400 nits
Viewing Angles
170°(H)/160°(V)
Screen Coating
Not Specified
Adaptive-Sync Technology
NVIDIA G-Sync
Speakers
N.A.
Display Adjustments
Height, Pitch, Swivel, VESA
Connectivity
1 x HDMI
1 x Display Port
1 x USB 3.0
Wall Mount
VESA (100mm)
Power Consumption
Less than 65W
Dimensions
564.1x(383.7 ~ 503.7)x 253.7 mm (With Stand)
564.1x330.6x72.5 mm (Without Stand)
Weight
5.6 kg
Warranty
3 Years
Features
You get this monitor at an affordable rate.
This monitor supports a 240Hz refresh rate.
You get pretty impressive response time which the company states to be 1ms.
The monitor sure has Nvidia G-sync capability.
When it comes to the screen, you are getting a TN which is a pretty good panel.
The stand that you are getting with this monitor is pretty impressive too as you can adjust its height and you can tilt it in whatever way you want plus you can rotate it according to your need. Its pivot is manually adjustable too.
It has a 1920 x 1080 resolution.
One more thing that I should mention is ULMB blur reduction is also supported.
Design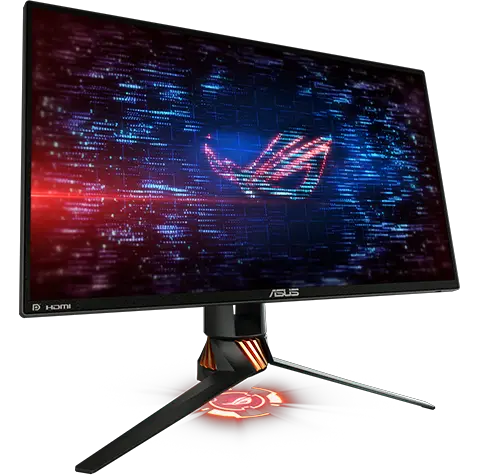 The most important thing that makes this monitor different from its friends, i.e. AOC, etc., is its design. While most of them feature a slim and wonderful metal stands, the Asus one has slimmer, bezel-less and attractive design along with gorgeous rear panel as compared to the AOC monitor.
Apart from this, the Asus Rog Swift PG258Q has a red light on its metal stand that kinda displays the Asus logo and looks marvelous. So if you are want something like this then this is one you can have a look at because most of its friends like the AOC monitors do not have this kind of feature. But if you ask my personal opinion I personally didn't like it because that red light distracts you look cheesy as well. So the majority of the time I keep it off.
Also, the stand is feature-packed. It allows you to adjust the height, tilt and rotate it to set up accordingly. And the most attractive thing about this monitor is that you can flip it to make the displayed items portrait-oriented.
If we talk about the ports and all offered then here's a shortlist of all the ports:
A display port
An HDMI port for videos and casting
USB 3.0 port
All of them are placed beneath the panel so it would be hardly convenient to plug at once. Otherwise, all other connections are easily accessible and convenient to use.
OSD and Setup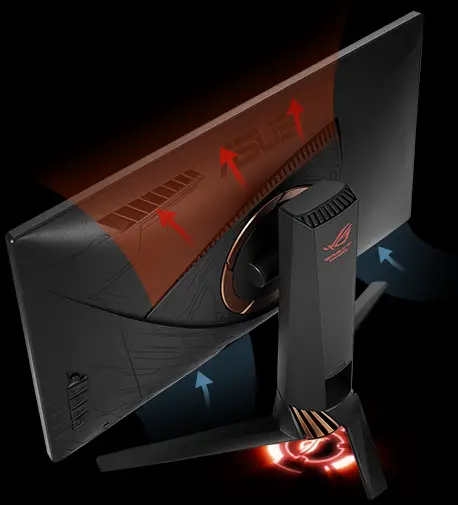 One of my most favorite thing about Asus' monitors is their on-screen setup and controls. You can either use a mouse or keyboard to easily navigate and go through the setup and controls menu. And in this way, they quickly respond and help themselves to set up the monitor.
You get three separate buttons to directly switch from OSD menu to GamePlus and GameVisual Menus. The GamePlus provides you the access to various video overlays such as Crosshair, FPS counter, Timer, and display alignment tools. On the other hand, GameVisual provides you the access to various display modes like Cinema mode, Racing mode, Scenery mode, sRGB Mode, RPG/RTS Mode, and FPS Mode.
Apart from this, there is a feature of blue light adjustment that takes care of your sleep and helps you keep awake at night as compared to usual brightness, contrast and color settings. You can also find settings to boost the overdrive (response time of pixels), enable the adaptive contrast mode and a dark boost mode that will let you find your enemies in dark in some game like Far Cry 3.
One of the most crucial features among all these is the Ultra-Low Motion Blur (ULMB) setting. This is a new version of a backlight storing blur reduction technique from Asus. In this process, the backlight of the monitor momentarily switches off. This works perfectly for providing a brighter and clearer image than before when the backlight is constantly on.
If we talk about the overall features of the Monitor then it has everything comprehensive and easy to tune just as you want it to except for one thing. The default mode setting is the 'Racing Mode' that looks good and processes every image nicely but it sounds a little odd to use Racing Mode as the default mode and sometimes it might be confusing as well.
Image Quality
The Asus Rog swift pg258q offers a clean and good looking display with decent contrast, accurate colors and good enough viewing angles. So in this way we can say that it comes with a good overall image quality for a TN paralleled gaming monitor, out of the box. But try to change the viewing angle you will see a slight difference in the image quality.
But wait, there's a drawback of the TN panel used in this gaming monitor. The grey colors used in the borders of Word Document look slightly off-color and disgusting. Although the panel works fine for gaming, videos and all but it would be a little distracting while reading or writing something in Word's Document or anywhere else.
The monitor is surprisingly very bright. By default, the brightness is set to 80/100 in OSD value but still, it's great. You might have noticed that the majority of the monitors can measure only up to 300-350 nits but this one can measure up to 400 nits. However, we recommend you to use only 100-120 nits of brightness in your everyday use.
But if you want to take advantage of this brightness then we have got an amazing trick for you. As this monitor features the ULMB technology greatly reduces the brightness level so using this extra brightness feature you can achieve the normal brightness level while having the ULMB tuned on.
If we talk about the specs and performance apart from subjective analysis then it would be a little difficult for some of you to understand. So we have shortlisted them so as to make you understand them with ease. If we test this monitor with a colorimeter then this monitor performs very well. Also, the results don't even wave when you move from the default 60Hz to 144Hz. Although at 144Hz you can find a quality drop that too gets improved as you move to 240Hz. Here's a brief description of other specs:
Contrast ratio: – 1000:1
Default color Temperature: 6578K (not far off 6500K ideal)
Gamma correction: 2.05
sRGB Color Space covered: 91.1%
Most of them are good, although not outstanding, and the color temperature is pretty impressive. So good is everything in default that I didn't change any of these settings except one. The brightness needs to be changed for calibrating the display. Otherwise, everything else worked fine.
Once the display is calibrated fully, you might notice a little change in your display but the performance remains the same. The color temperature gets dropped to 6521K, gamma gets closer to the default (ideal value = 2.1) hitting 2.7.  The major change that you will notice is the sRGB color gets changed to 89.2% that is it drops slightly.
If we get in deep and talk about the overall performance of the ASUS ROG Swift PG258Q, the specs and everything is pretty decent for a TN display Gaming Monitor. Although the IPS would do better than this in the TN Display this could be the winner of displays and features because there are only a few that can beat it.
Gaming Performance
As we have mentioned above that this monitor has the maximum limit of up to 240Hz refresh rate, it has an advantage over other monitors. For example, let us consider a few games like Titanfall 2 or Team Fortress 2. As both of them are face-paced games you will clearly find the advantage of 240Hz over the 144Hz displays. And if you switch to 60Hz it will feel like you are playing in treacle.
The addition of G-Sync will surely improve your gaming experience as you won't feel any lags or crisp and the gaming will be tearing free and clear. But sadly the ULMB mode won't work either when you have switched to a higher refresh rate from 144HZ nor when the G-Sync is enabled. However, at 240Hz it will produce a good quality image and noticeably clearer picture.
Should you buy the ASUS ROG Swift PG258Q?
This monitor is a fantastic and amazing product from Asus for gamers, although a bit expensive. When it comes to high-end gaming it has got everything that you want from 240Hz of refresh rate to G-Sync and blur reduction technology. For the TN display technology used in the monitor produces a good image quality. The color reproduction is pretty impressive and the viewing angles are surprisingly amazing.
The only spanner is in the price it is offered at because this amount for a 25-inch monitor that too with 1080p screen is not a great deal. The main reason behind the increased price is the addition of G-Sync that has made the monitor much better and expensive as well.
As we have already mentioned that this monitor can't be compared with its siblings or friends in many aspects but still there are a few points you need to be very clear about. So here we have got the features at a glance along with the pros and cons of ASUS Rog Swift PG258Q.
Final Verdict
After all the discussions, pros and cons we can easily conclude that you would just love the 240Hz refresh rate and the G-Sync technology of this monitor. But then the price might stop you from buying this price for a 25-inch monitor that too with a 1080p screen is not a great deal. But in case you still want to get on then surely go ahead, it's great.
That was all for the in-depth review of Asus Rog Swift PG258Q along with the pros and cons. Do let us know your thought about this high-end gaming monitor in the comment section below and share your experience if you are going to get one. Also, if we have missed something kindly contact us and give us your feedback. Thank You.