Acer GN246HL Review
Summary
It is surprisingly amazing and great in this price range. As we are here talking about a budget gaming monitor so we can not expect much. On the other hand, we should focus on what best we are getting in the budget.
Refresh Rate

Resolution

Brightness

Connectivity

Power Consumption
Pros
Nvidia Vision Support
144Hz Refresh Rate & 1ms Response Time
Display Quality is Great
Energy Efficient
Budget Friendly
Are you looking for a gaming monitor under a minimum or tight budget?
Well if the answer is yes then you are in the right place. Today we have decided to talk about one of the inexpensive yet budget saver gaming monitors so we can help you out with your query.
As you know the gaming world is asking for high end and up to date hardware capabilities for the latest game releases.
It has become a quite tough job for most of the people to get some gaming-related accessories on a tight budget.
However, to save some of the gamers who own some little money, there are a lot of computer manufacturing companies who are working their asses off to come up with accessories that are affordable yet best in the gaming world?
Talking about one of the best budget segment gaming monitors then we have to name the Acer GN246HL here. As it is one of the best yet affordable gaming monitor that is designed to satisfy all of your gaming needs.
As you know Acer is a multinational company that has gained quite a lot of popularity over the years by providing amazing computer hardware. However, when it comes to gaming Acer is not the first name that gamers love to choose.
Although things have changed quite a lot since the launch of their Acer GN246HL monitor. However just in case if you are wondering why the monitor is one of the best ones to go with then read on and we will be sharing our Acer GN246HL review.  So let's just head into the topic without wasting much of the time.
Acer GN246HL Review
The Acer GN246HL is a 24-Inch 3D Gaming Display. The monitor comes with a 144Hz Refresh Rate. Also, it has been introduced as one of the definitive options for any gaming fan. Also, the Acer GN246HL gaming monitor is undoubtedly one of the best 144Hz screens that exist today.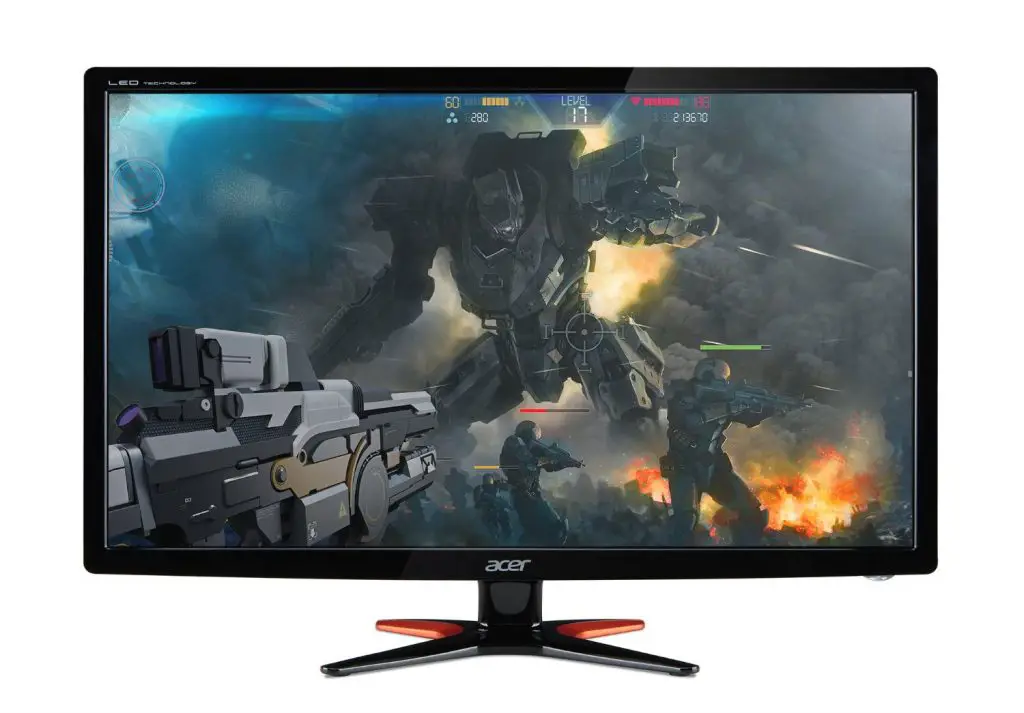 Specifications
Screen Size
24 Inches
Resolution
1920 x 1080 (Full-HD)
Aspect Ratio
16:9
Response Time
1 ms
Refresh Rate
144 Hz
Display Type
LED-Backlit LCD
Panel Type
TN
3D Ready
Yes
Contrast Ratio
100,000,000:1
Brightness
350 nits
Viewing Angles
170° horizontal
160° vertical
Screen Coating
None
Adaptive-Sync Technology
None
Speakers
None
Display Adjustments
Tiltable Stand (-5° to 15°)
VESA
Connectivity
1 x DVI
1 x HDMI
1 x VGA
Wall Mount
VESA
Power Consumption
23 Watt
Dimensions
13.5" x 22.2" x 1.7"
(without stand)
15.79" x 22.24" x 7.05" (with stand)
Weight
3.07 kg (Without Stand)
3.52 kg (With Stand)
Warranty
3 Years
Design
Talking about the design, the monitor is quite thin compared to the other gaming budget segment monitors. To make the monitor stand there is a 4 spooked stand with some copper highlights.
The buttons on the monitor are placed nicely at the bottom of the display unit. There is a nice finish at the front panel and offering a 16:9 aspect ratio.
The 16:9 aspect ratio offers a great viewing experience as it makes movies more real and dramatic. You will also be able to notice small details as well you do not have to struggle to read small texts.
The 16.9 aspect ratio is designed to give life to the games, the video quality is so good that it will speak for itself. Also, the monitor offers a wall mount option so you can mount the monitor on the wall and save some desk space. However, you would need a good build quality wall mount to get done with the job.
Connectivity Options
The Acer GN246HL comes with all the basic connectivity options. Such as there is an HDMI, VGA, and DVI-D port.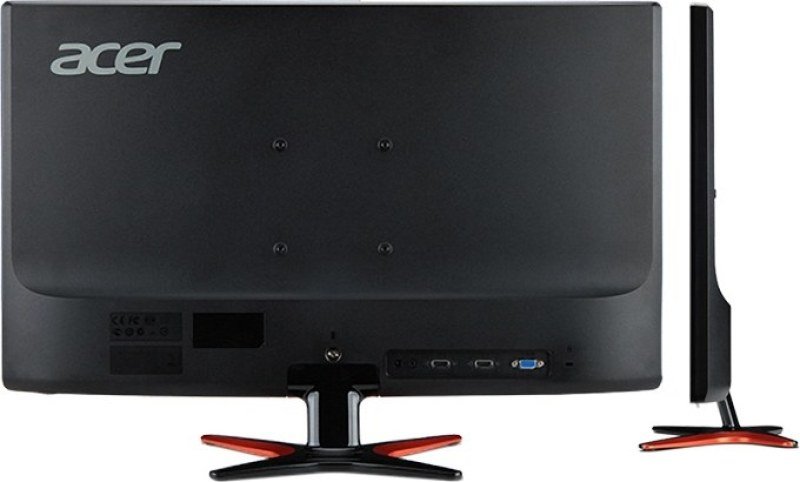 However, you have to miss the DisplayPort port, which can hurt most of the gamers out there. As you know the VGA adapter will not offer you a refresh rate of more than 60Hz. Also, you will not get the refresh rate with the HDMI 1.4 port.
So just to save your butt and offer you the 144Hz refresh rate the company is asking you to use the dual-link DVI connection. Thanks to the Acer that they have added the DVI cable along with the VGA cable in the Monitor box.
Features
Apart from the basic connectivity options, there is an audio out jack port. The audio jack port will allow you to connect external speakers. Just in case if you are planning to use the monitor for PlayStation or Xbox gaming and you need extra sound. The port can be a savior for you.
Or you can connect a gaming headset to the audio port. However, you will not be getting the inbuilt speakers as it is one of the many factors that helped them to offer the gaming monitor at an affordable price
However, most of the gamers love to attach an external headphone or speakers for decent gaming. As the inbuilt speakers do not offer much sound that gamers basically need. So it is advisable to get some decent speakers along with it.
Performance
Talking about the performance, the gaming monitor performs really well. If you are switching from a 60Hz monitor to the 144HZ monitor. Then let me tell you the experience would be flawless. The on-screen movement is crazy and fluid from any other monitors existing in this budget segment.
However just to make you satisfied it has some nice color contrasts, brightness. But you have to miss gaming-specific settings that most of the other gaming monitor offers. The monitor offers a good viewing experience, but you may not always get amazed by the performance. However, the monitor will not disappoint you.
The setting up process for the gaming monitor is easy as it is a plug and play gaming monitor. However, you will face some difficulties with the display adjustments as the stand included with the monitor doesn't let you move the monitor up and down. It only offers a forward tilt to 15 degrees only and that can be a pain in the ass for many. However, the monitor lets you wall-mount it. So that can be a savior too.
However, overall everything would seem good. There are some little cons but if you are not a heavy gamer then it might not be an issue. Also, you can not expect much from the company on a tight budget. As they too have faced difficulties to create a gaming monitor for people who are running out of money. Overall you can say the monitor is decent. It offers good performance but not really amazing.
Pros:
The Acer GN246HL comes with the support of NVIDIA 3D light boost technology and NVIDIA vision. That is designed to offer brighter, better picture quality. Also, it helps in offering Full HD 3D imagery via PC DVI-DL.
One of the main reasons why you should go for the gaming monitor is that the Acer GN246HL comes with a Refresh rate of 144 Hz. The refresh rate reduces the time of rendering a frame taken from a 2D motion scene.
The Acer GN246HL gaming monitor offers more than any other gaming monitors in its budget segment. It offers high-end specs at an affordable price.
The resolution of the gaming monitor is 1920 x 1080. This is an ideal resolution for delivering high-quality video details. The monitor also helps offers you a great viewing experience while playing Widescreen cinematic playback and Blu-ray Disc and console gaming.
The Acer GN246HL gaming monitor is eco-friendly and energy-efficient. It comes with RoHS compliant white LED backlight. The monitor is designed to save up to 68 percent of the energy.
Cons:
As mentioned earlier, the gaming monitor lacks the inbuilt speakers instead there is a 3.5 mm jack on the monitor.
The monitor lacks a display port. However, there are ports like VGA, DVI and HDMI ports. Just to get the 144Hz to its fullest you will need to use the DVI cable. With the HDMI cable, you will only get a refresh rate of 60Hz.
It takes around 15-20 seconds to turn on. That is can be a pain for most of the gamers out there.
Some of the gamers found that the Acer GN246HL gaming monitor is too bright and it can hurt your eyes at night. However, the too-bright display also can be favorable for some. But the bright issue you may have to use additional applications.
This gaming monitor is not totally worse. Instead, it is surprisingly amazing and great in this price range. As we are here talking about a budget gaming monitor so we can not expect much. On the other hand, we should focus on what best we are getting in the budget.
Also, I do not think that the monitor would ever disappoint you with its features. I know there are a few issues, however, there are also a few solutions available for the issues. So overall the monitor is good and you should go for it. So that was all for the Acer GN246HL review.